Use the countdown component to clearly communicate the ordering timeline and increase urgency.
About the Countdown Component
This component allows you to establish and communicate an ordering/store availability timeline. There are two main benefits in using this feature:
Urgency: Let shoppers know the store/product(s) are only available for a limited time.
Awesome communication: Use the title and description to add important customer-facing messaging: Think: Details about expected production and delivery dates.
Add Component

Click Blue Plus Sign (+) on the bottom right
Select the Countdown Component
NOTE: You have 3 Layouts to choose from.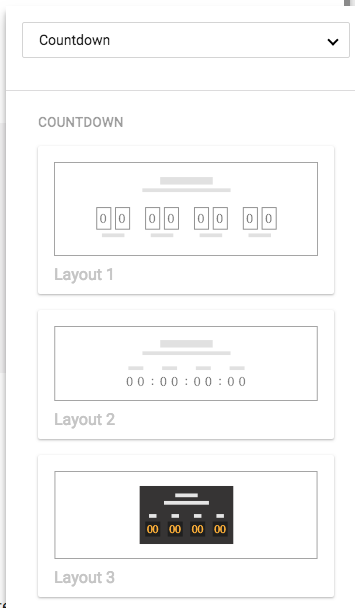 Countdown Layout Settings
Layout: Select your desired layout (style).
Background Color: Here you can decide if you want a background color.
Countdown Title: Choose the title of your countdown. This might say "Last Day to Order" or "Campaign Ends In..."
Countdown Description: This is optional. Here you may communicate or reiterate estimated production and shipping dates.
End Date: Select a day for the countdown to end.
End Time: Select a time that the countdown will end.
Time Zone: Choose the time zone of your location so the end time will be relevant to your area.
Upon Completion: Here you can decide if you want the Countdown component to be removed once the completion time is met, or if you want the entire Store to be disabled at completion time, so no other orders can be placed.

Don't forget to Save & Publish at the top right to make your changes live.