Have your customers complete an order form for their own custom-designed item.
Each item in your catalog is eligible to be sold using the "Upload Art" function in Stores. This operates very similarly to the Designer but is more streamlined. Your customer will upload their artwork in the system and submit it similarly to a quote... the difference is that they will still make a payment during the transaction.

Setting Up Upload Art (Individually)
In the General Tab of the Edit Product page, you can scroll down to find Default Blank Purchase Options. Here is where you can set the item's parameters. Checkmark the Design Details Form box and click save to enable this option.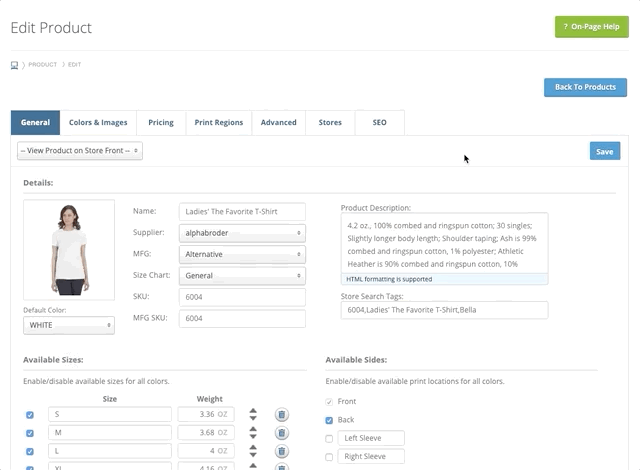 There are two other options you may want to consider for this product:

Buy Blank is the sale of blank items in a Store.
Design Online will take this item to the Designer.
Additionally, you are able to customize the text for this button on the Store. Enter the verbiage you'd like into the Button Label field. Examples: Submit Design, Upload Art, Process Quote, etc.
Setting Up Upload Art (In Bulk)


1) Select your items in Products > Manage Products after searching/filtering.
2) Choose the Set Blank Purchase Options in the Select Action dropdown and click Apply.
3) A window will appear with your options for this item. Click the checkboxes for Design Forms for the stores you want this to be sold in.
4) Click Save when you are finished.