This feature allows you to quickly make a duplicate product of your choice from your existing product catalog.
When copying from an existing SKU, a duplicate product is created. You will then be able to edit and make changes to your product, without affecting the original product.
Note: This is a fantastic way to create a pre-decorated product when you already have the decorated images mocked up outside of Inksoft.
Navigating to Copy SKU
Hover over Products
Hover over Add New Product
Click on Copy from Existing SKU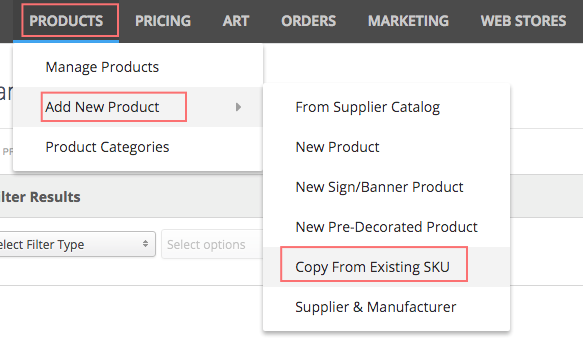 Copying your SKU
Type your SKU into the field highlighted below.
Click on 'Copy SKU', this will generate the new SKU and may take a moment to load.

New Product Copy
After your copied product loads, you will be taken to the edit product page to make your changes.
The SKU will appear as it is on the main product with the extension _COPY, you can edit this as needed.
Copying the SKU copies all product details including store and category assignment, SEO information, and price. Please make your adjustments accordingly.