Overview of the Default Stores Report, available within the Core Reports section.
Store Menu Select:

Click the All Active Stores dropdown and you will be presented with 3 options:
Active Stores
Inactive Stores
Deleted Stores

Click the arrow next to any of these groupings to expand your options if you need to run the report for specific Store(s). Anything that is checked will be included in the report.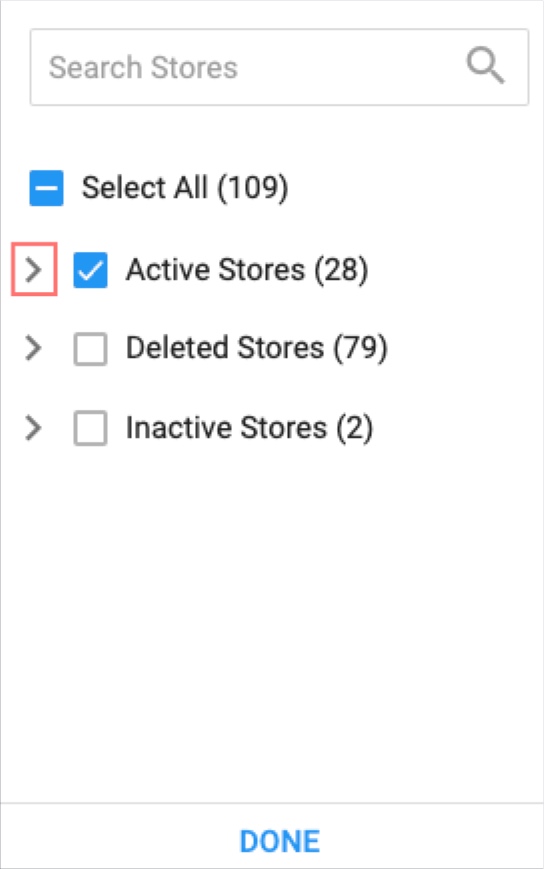 Report Output:
1 Row per Store
Report Columns
The following data points are included in the report and are represented as their own column in the table view. All columns listed below are shown in the report by default.
Note: Hide/Show columns using the Columns Panel
Use the columns panel in the Report Detail View to hide/show the different data points you want to be visible in the report. Learn more about managing columns

Group: means the column supports Row Groups and can be nested
Aggregate: means the column supports Row Group Value Aggregation
COLUMN LABEL
DESCRIPTION
GROUP / AGGREGATE

Store Name

Customer-facing name of the Store.
Group
Store Directory
Permanent store ID that is used to access the store.
Group
Store URL
Full web address to the store.
Group
Date Created
Date the store was created.
Date Closed
(Marked Inactive)
Most recent date the store was marked as inactive.
Num Total Orders
Total count of orders placed on the Store excludes canceled orders.
Aggregate
Total Order Revenue
Total amount of order revenue recorded (includes tax and shipping).
Aggregate
Total Tax Collected
Total amount of tax recorded from all orders placed.
Aggregate
Profit
Total amount of profit recorded. Profit is calculated by (pre-tax order item subtotal) - (the sum of the total product cost).
Aggregate
Store Commission
Total commission calculated by

profit

x

storeCommissionPercentage. Note: only orders that have been marked as completed are counted toward commissions.
Aggregate
Total Active Products
Total number of active Product SKUs on the store.
Aggregate
Total Users
Total number of user accounts that have been created on the store
Aggregate
Fundraiser Start Date
Most recent date the fundraiser component was added to the store and the store was active.
Fundraiser Start Time
Most recent time the fundraiser component was added to the store and the store was active. Timezone shown is that of the
Fundraiser End Date
Most recent date the fundraiser ended, either by the store being marked inactive or the date the fundraiser component was removed from the store.
Fundraiser End Time
Most recent time the fundraiser ended, either by the store being marked inactive or the date the fundraiser component was removed from the store.
Fundraiser Goal Type
Type of fundraiser goal set, such as Financial Goal, Units Goal, or Open-ended
Group
Fundraiser Goal
Specific goal amount of the fundraiser. Depending on the goal type this can be the number of units sold or a set dollar amount.
Group
Fundraiser Customer Payout
Financial amount owed to the customer the fundraiser was for. Payout amount is based on the fundraiser goal set which can either be a fixed dollar amount per unit sold or a percentage the stores profit.
Aggregate
Fundraiser Status
Current status of the fundraiser. If it is currently active, this will show

True. If inactive, this will show

False.
Group
Saved Designs Count
Total number of customer-saved designs via the Online Designer.
Aggregate
Uploaded Art Count
Total number of uploaded files in the Store Art section (Active & Inactive).
Aggregate
Rendered Design Count
Total number of designs that have been rendered by an Admin from the Order Manager
Aggregate