How to access and download your customers saved designs
Saved Customer Designs are all designs that are created and saved by users in the Design Studio. This is a very valuable tool as it allows you to find your customer's designs they created, and edit or download the art file.
Please note: This feature only applies to users that have created an account on the site. If the customer was not logged in or does not have an account, their art can be found on their order within the Order Manager.
Getting Started
Hover over Art
Hover over Downloadable Art
Click Saved Customer Designs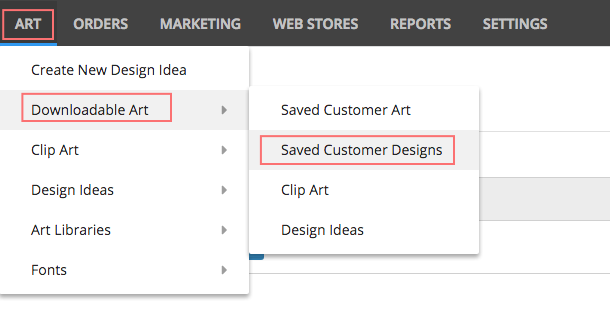 Searching for Customer Designs
Choose how you would like to search for your customers art, select from: Store, Date Range, Customer, or View All
The Search Art function allows you to find saved designs quickly. You can enter search requests by email address, customer name, and design name.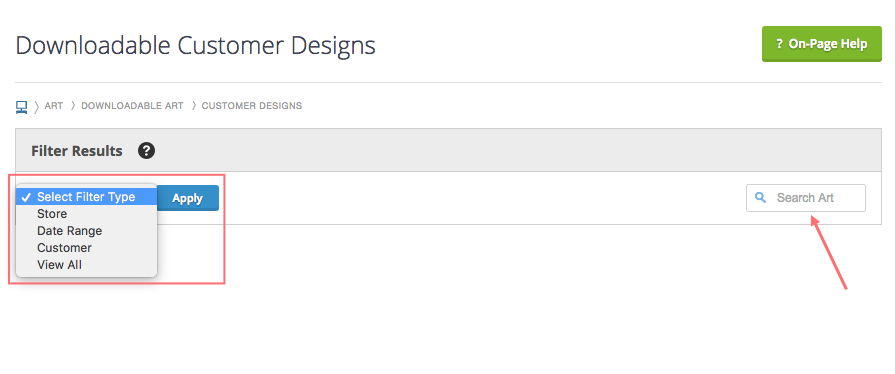 Customer Design Options
After filtering you will see the results displayed. When hovering your mouse over the thumbnail preview you will see three icons/options which include (from left to right):
Render/Download: This will prepare the art for download. Note: Rendering is the process of finalizing the art and assembling it. This process may take several minutes.
View in Store: Allows you to view the art on the storefront
Edit Design Studio: Need to make changes? This function will allow you to edit and save the customers design in the Design Studio right in the backend. Click 'Save' in the Design Studio to replace the customer's saved art with your modifications.

Downloading Customer Designs
When the art is ready to download the render icon will change to a download arrow and text saying "Rendered Today" will display under the date of the design.
Click the Render/Download button
Select the File Type you wish to download; you can download all file types with the zip file that is listed first. The files available for download are directly correlated with the Printing Capabilities set in your store. For more information about Printing Capabilities see this guide here.