How to make individual and bulk edits to your Design Ideas
Managing your Design Ideas will allow for you to edit, view and reorganize your Design Ideas both in bulk and individually.
Navigating to Design Ideas
Hover over Art
Hover over Design Ideas
Click Manage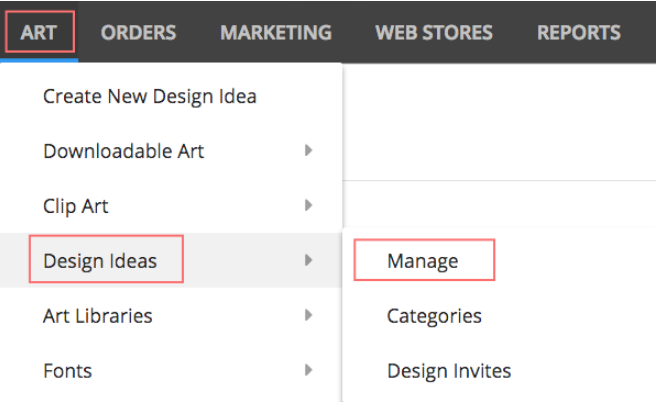 Choose your Filter
Select a Filter Type:
Store, Category, Type (vector or raster), number of colors, featured, or admin created.
Click the Apply button to generate results

Managing Designs
When you hover over your selected image, you can select your with the selected checkbox for bulk action changes, or make individual edits using one of two options (left to right):
Edit: Allows you to make individual edits that are outlined below.
Edit in Design Studio: Allows you to edit the artwork in the design studio and save the updated version.
Note: Renaming the design when saving will create a new design and leave the original as is.
Are you looking to render and download your design?
Click HERE for more info!
After generating results you will have a number of options available to manage your designs:
Delete: Will delete the selected design idea files.
Edit: Selected designs will be opened in edit mode to allow you to edit categories, background color, store, and keywords.
Upload Keyword CSV: This will allow you to upload your edited keywords.
Download Keyword CSV: This will download a CSV template for editing or adding keywords for each design idea file. You can edit this in Excel or Google Docs.
Assign to Store & Category: This is how you will assign your artwork to specific stores and categories once ready.
Lock: You can 'lock' each selected design idea so that it cannot be customized.
Unlock: You can unlock the selected designs to make them customizable.
Change Background Color: Here you can select the background color for the selected design.
Featured: You can mark selected designs to be featured on your homepage.
Mark Un-featured: You can mark selected design ideas to be unfeatured to remove them from the featured design section on your site.
Change Associated Product: You can change the default product associated with the design.
After selecting the appropriate filter, Click Apply to generate results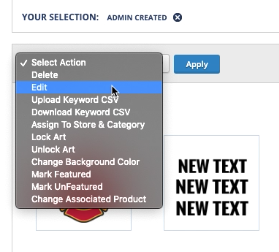 Click the Save button when you have completed your changes.