How to upload custom clip art into InkSoft.
InkSoft allows you to upload unlimited clip art. We highly recommend saving/exporting your vector clip art in either an SVG (scalable vector format) or PDF format. We suggest using PNG for all raster/digital clip art.
Getting Started
Hover over Art
Hover over Clip Art
Click Upload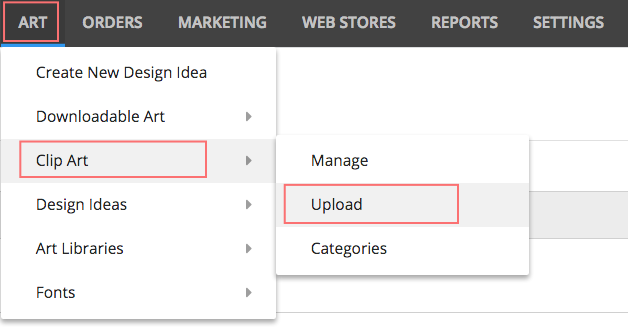 Uploading Clip Art
Click the 'Browse' button to select and upload clip art from your computer.
Select Action: You can choose to Delete, Assign to Store Category, or Set Background Color for the selected clip art
Select/Deselect All:This is useful for when you want to take action on several clip art files at once.
Hovering your mouse over a thumbnail will reveal a checkbox and edit icon on the clip art.
IMPORTANT: Once you upload your files you will see the clip art display at the bottom of the screen. After adding the art to a store/category and refreshing the page you will see the uploaded uncategorized art disappear.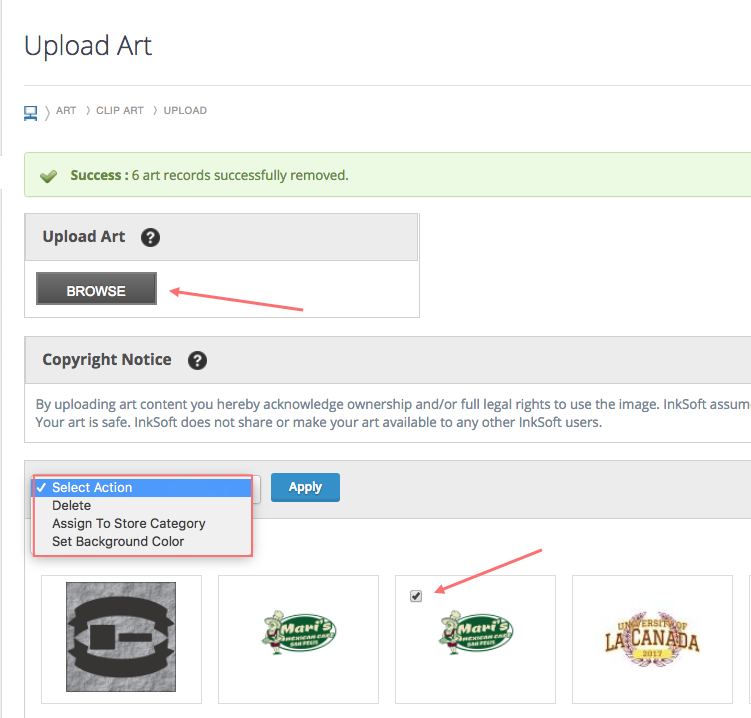 Assigning Clip Art
Select the Store(s) you wish to add your uploaded clip art to
Select the Categories you wish to add your uploaded clip art to
Select the background color you wish to display behind the uploading clip art by typing in the HEX color value or by using the provided Color Picker
Click the Apply button to complete the process