How to manage your clip art in bulk and individually
Getting started
Click the Art
Hover over Clip Art
Click Manage
Select Filter Type:
Store
Category
Type: Vector or digital
Source: Library (InkSoft provided content), Admin (admin uploaded clip art)
Number of colors: Colors in vector clip art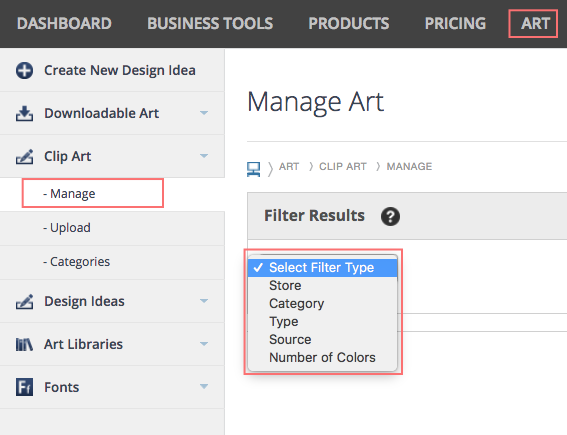 Manage Clip Art
After generating results you will have a number of bulk actions available through the 'select action' box including:
Select/Deselect All: You can either select targeted clip art files or select/deselect all.
Delete: Will delete selected clip art file.
Download Keyword CSV: This will download a CSV template for editing or adding keywords for each clip art file. You can edit this in Excel or Google Docs.
Upload Keyword CSV: This is the control to upload your edited Keywords from the action above.
Assign to Store Category: You can assign selected clip art to clip art categories/stores.
Remove from Store Category: You can remove selected clipart from categories/stores.
Set Background Color: Here you can select the background color for the selected clip art.
Click Apply to generate results
Edit: Hovering your mouse over each clip art thumbnail preview will reveal the 'Edit' icon, you can edit the clip art individually this way. You are able to assign store, keywords and category.