How to add your custom print colors to the design studio
InkSoft comes with a default/general ink palette ready to go! We recommend creating a custom ink palette that reflects the colors you use to print.
Keep in mind, users in the design studio can upload any color artwork. This palette will be available for color replacement and for art creation in the Design Studio.
Getting Started:
Hover over Settings
Hover over Advanced
Click Ink Palette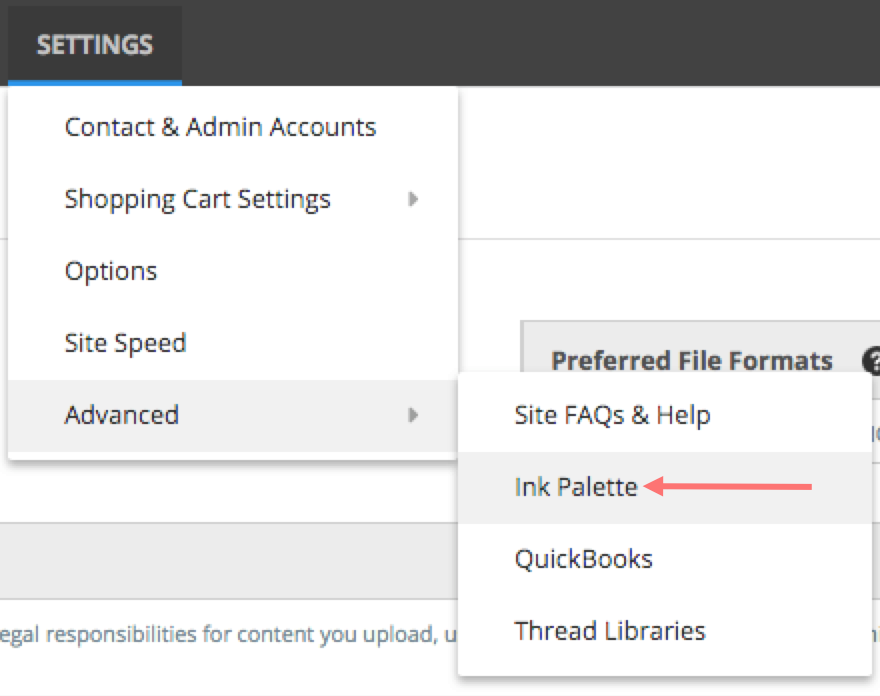 Printer Ink Colors
Maps: Click the Map (color palette) name to edit.
Colors: The color drop down will allow you view all colors assigned to that palette.
Stores: Here you can assign/unassign the color palette to Webstores, if it is not assigned to any Webstore, it will apply to all stores.
Click the trash can icon to delete a custom color palette.
Click the plus "+" icon to create a new custom color palette.
Save changes
Note:Do NOT delete a default map unless you are sure you will never need it again. It's always best to un-assign it from your Store(s) than to delete it. Deleting your color map permanently deletes from your account.

Edit Ink Palette
Map Name: You can name/rename the ink/color palette
Name(required): Enter a name for each color. This will display to the customer and will also reflect on the order.
Display Color (required): Click in each box to access the HTML color tool, or you can input the HEX color value if you know it.
Ink Color RGB: OPTIONAL. Enter the RGB color values here.
Sort: Enter the order in which you want the color to appear in the Design Studio.
Team Names: Check to make this color available for team names.
Team #: Check to make this color available for team numbers.
PMS: Enter the PMS (Pantone Matching System) value here.
Ink Name: Ink manufacturers name for the color.
Ink MFG: Manufacturer name.
Click the 'trash can' icon to delete a color. Click the '+' (plus) icon (at the bottom most color) to create a new color.
Click the Save button when you are done making changes.