Marketing tools to help further your web site success
Site Tools
Hover over Marketing
Hover over Advanced
Click Site Tools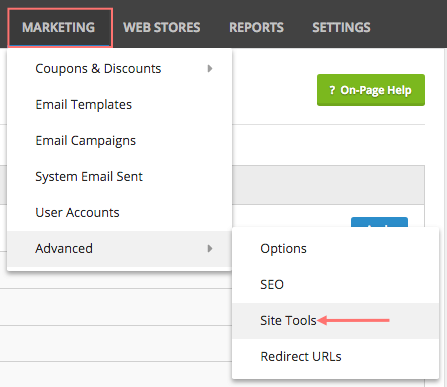 Google Analytics
The number one thing to think about in every part of advertising is analytics. Most of these platforms (InkSoft, Facebook, Google, Yelp, Twitter) will have analytics to show you how many people have visited your page, how many people click on a link or button, how many people go to your website, and so on. These numbers are IMPERATIVE to your success!
For example, if you are spending money on advertising and noticing thatGoogle isn't bringing you as many clicks as Twitter is, you should stop spending as much money on Google and allocate funds in the platforms that are showing more action. Do not waste your money and time on platforms that you can track success, but aren't seeing any.


Need to create your account?
Create an Account

Note: Google Analytics 4 is the next-generation measurement solution, and is replacing Universal Analytics. On July 1, 2023, Universal Analytics properties will stop processing new hits. We have updated our system to support both GA3 and GA4 until July 1, 2023. Support for Google Analytics 3 will no longer be supported after that date.

Google Tracking ID (UA-nnnnnn-n)
Once you have your account set up and ready to go. Enter your Google Tracking ID and see all your traffic reports at Google Analytics! Add Google Tracking ID and your Google Measurement ID > Save to get started.
Site Verification
Verification is the process of proving that you own your site. Google needs to confirm ownership because once you are verified for a site, you have access to its private Google Search data and can affect how Google Search crawls it.
The Google Verification Meta-Tag is a snippet of HTML that Google will give to you for site verification. There are 2 ways of proving you own the site you claim to own.
Verify through your domain registrar
Use Alternative Method (Easiest & Recommended) to grab the HTML Tag to copy and paste into your InkSoft Admin Portal
NOTE: You can verify your site through Bing as well


Need assistance to find your Google Verification Meta-Tag? Site Verification

Google Product Feed
Google Data feed is a file made up of a list of products which use groupings of attributes that define each one of your products in a unique way.
Attributes, such as 'condition' and 'availability', can have standardized values, or accepted "answers," or attributes can be open to fill with your own choice of value, such as 'id' or 'title'.
Click Create New Google Product Feed
Click Blue Apply to refresh your page
Click the Green 'Click Here To Download Your File'
Unzip the file and upload into your Google Account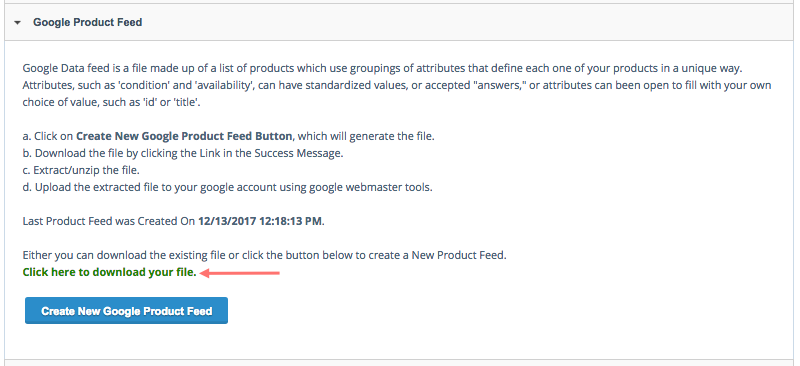 Upload your Google Product Feed

Google Sitemap
A sitemap is a file where you can list the web pages of your site to tell Google and other search engines about the organization of your site content. Search engine web crawlers like, Google Bot, read this file to more intelligently crawl your site.
Click Download Sitemap
Click the Green 'Click Here To Download Your File'

A white page will open for you
Right Click on the page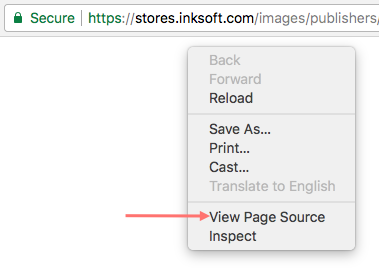 Click View Page Source
Copy & Paste into your Google Account

Google Tag Manager
Google Tag Manager is a free tool that makes it easy for you to add and update website tags. This can be used for things like conversion tracking, site analytics, re-marketing, and more.
To learn more Google Tag Manager and sign up for a free account, click here: Google Tag Manager


Once you have your account, find and copy your Google Tag Manager ID (GTM-XXXX) and paste it into your Admin Portal of InkSoft:

Need further assistance?