Do you need to collect any additional information from customers for this store? This can be accessed from Store Admin > Store Settings > Custom Order Fields.


About Custom Order Fields
This is an optional feature that allows you to create custom fields to collect data from your shoppers in the checkout process. This data might be useful for fulfillment, delivery, and packaging.
How to Create Custom Checkout Fields
Click Add Custom Field to create a custom checkout field.

Create a Text Field or Dropdown Field
Select the desired field type: 'Text Entry Box' or 'Dropdown'
Optional: Choose if you wish to make this a required field during checkout.
Type in the Field Label. Field Label is the title of the custom checkout field.
Type in the Field Instructions. Field Instructions indicate the action or response you need from customers at checkout.
At the bottom of the form, you can see a preview of your Custom Order Field to see how customers will view this during checkout.
Text Entry Field Example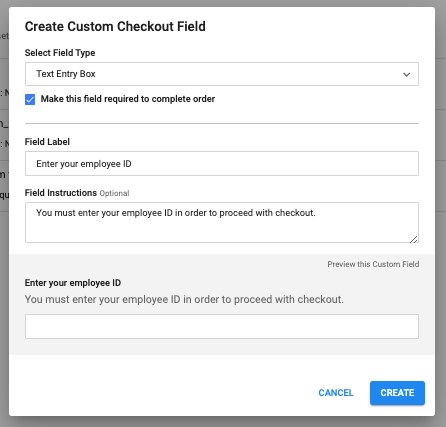 Dropdown Field Example
Edit, Remove or Change the Order of Custom Fields
Here you can drag and drop to change the order. Use the Drag and Drop buttons next to the individual Custom Fields to change their display order. Click 'Edit' to modify, or click the trash icon to remove.