Calculate/Set Up your Screen Print Pricing Grid
InkSoft's print pricing is straight forward. You create the number of breaks for your quantity range. This will then allow you to assign a specific grid to a product or a specific color of a product.

NOTE: You can create as many grids as you would like. It will automatically come over with Default (Dark Color Grid) and Light (Light Color Grid).
Printers Guide to Profitability
Need some information over increasing your revenue and lowering your cost when pricing to your customers? Printers Guide to Profitability
Pricing Options (Important)
Prior to creating your Screen Print pricing grid, please make sure to check that your Pricing Options are set up properly.
Vector-Only Printing is checked
Set your Max Print Colors per design
Minimums per Order for your Vector Printing
Let's Set Up Screen Print Pricing
Click Pricing
Click Print Pricing
Click Screen Print Pricing
You will automatically have 2 Screen Print Pricing Grids:
Default (Dark Color Grid)
Light (Light Color Grid)
NOTE: You can add as many grids as you may like. Click the '+' Sign next to Light grid to add another pricing grid to your list.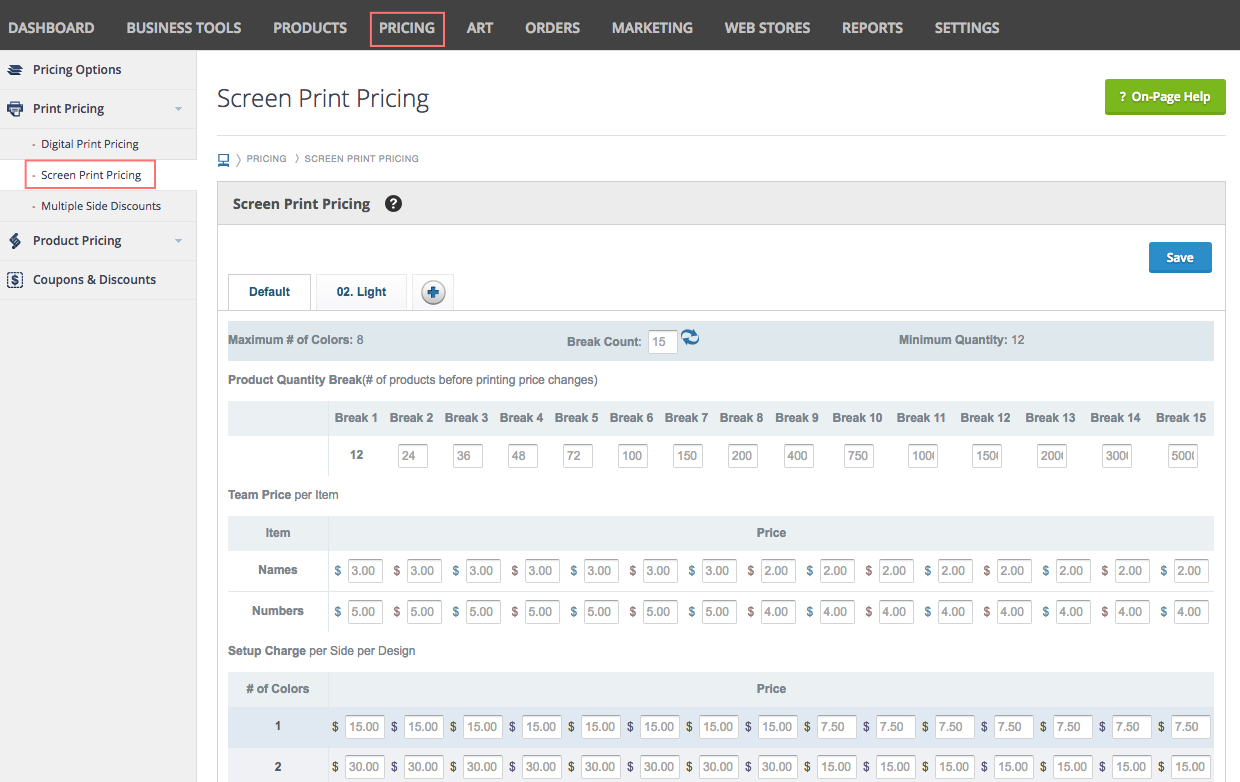 Screen Print Pricing
Using the Default Screen Print Pricing structure, you will fill in the required fields to complete your Screen Print pricing.
NOTE: Every box needs to be filled with a number or it will not save. Make sure to enter 0.00 if you want the specific box to have a zero dollar price.
Break Count - Set up your break counts per your shirt quantities. To increase or decrease your Break Count - Enter the number of breaks you want and click the refresh arrows
Break 1 = 12 - 23 Shirts
Break 2 = 24 - 35 Shirts
Break 3 = 36 - 47 shirts

Setup Charges (Setup Charge is per Side per Design) - Your set up charge is a one time charge to your shopper. Its basically your Screen Price per color (You can also tack on any extra set up fees)
1 Color = $15 for a screen
2 Color = $30 for a screen
3 Color = $45 for a screen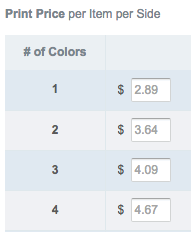 Print Price (Print Price is per Item per Side) - This is primarily the price of your Ink.
1 Color = $2.89
2 Color = $3.64
3 Color = $4.09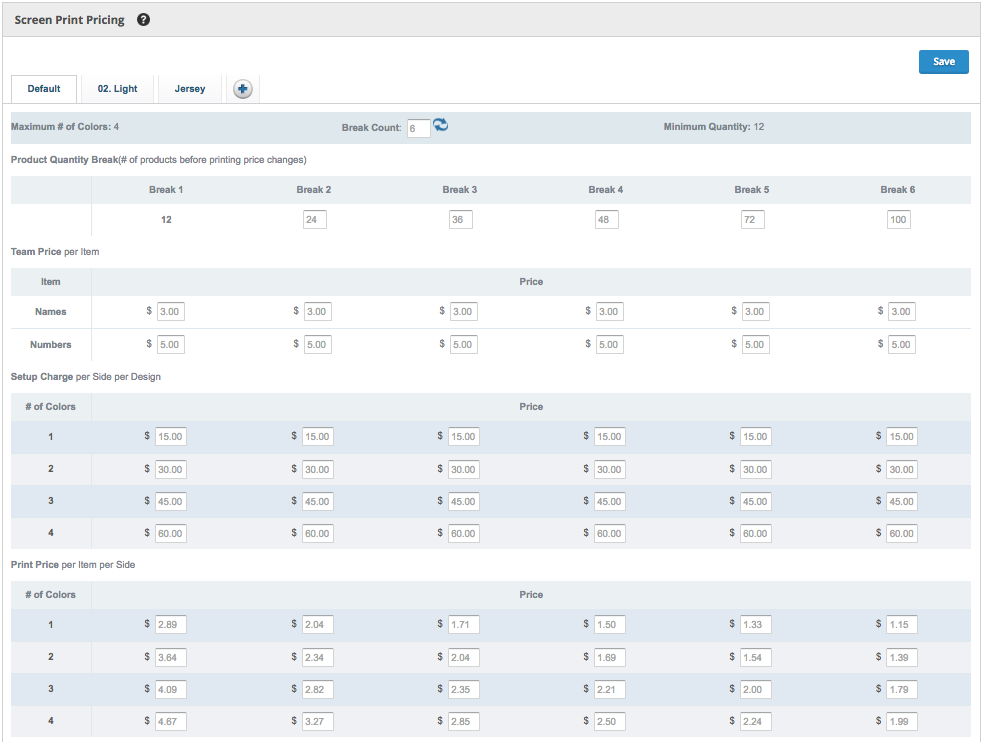 NOTE: Remember to make sure that every box is filled with a value. If you want it blank, put in 0.00
Screen Print Pricing Defined Example
See table below to show you how your print pricing is calculated.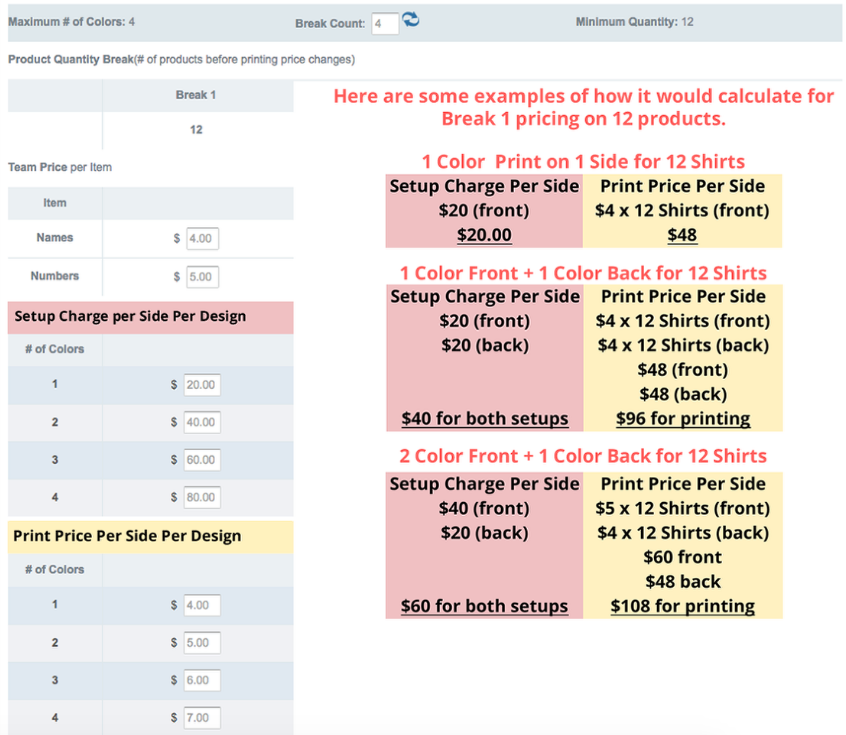 Screen Print Pricing Calculation WITH Product Price
See the example table below to understand how the full calculation would formulate to your shopper.
Pricing Formula: Blank Product Price + Print Price = Finished Price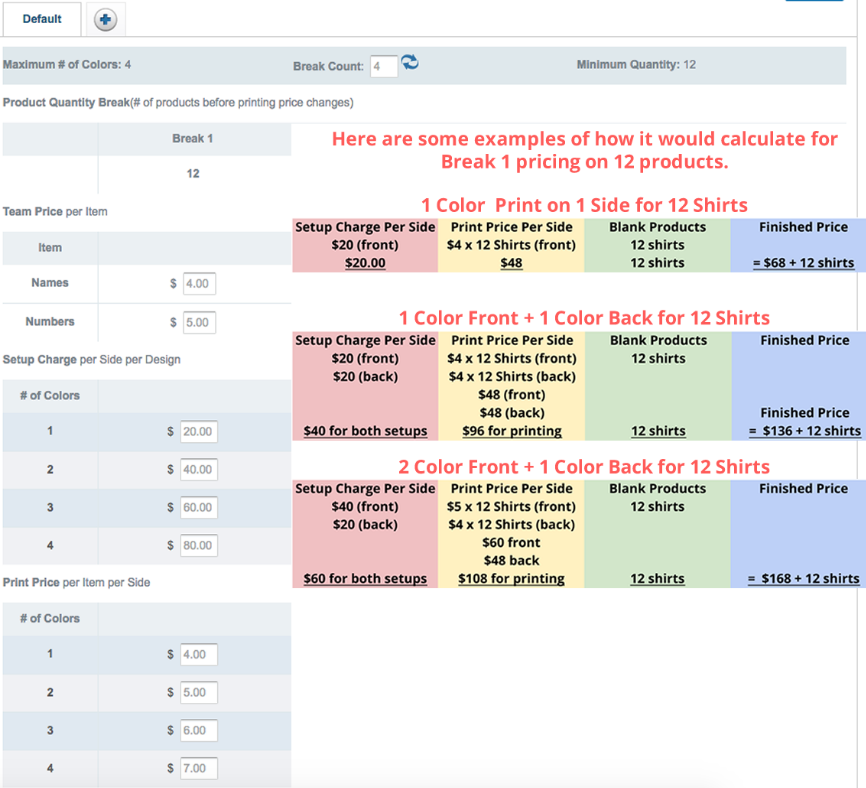 Creating Additional Screen Print Pricing Grids
Click the Plus Sign (+)
Enter the Name of your grid (i.e. Light, Vinyl etc.)
Enter Break Count
Click Add Pricing Model

Delete Print Pricing Grid
Click on the Pricing Grid you want to delete (i.e. Light)
Click on the "X" at the top right - this will remove your grid
Click Save
Note: You can't delete the 'Default' pricing grid.

Assign Print Pricing Grids to Products
Now that you have your pricing grids set up. Let's make sure we are associating your grids to your products!