What does the Bulk Product Upload Feature do for you? This feature allows you to create multiple customizable and pre-decorated products at once.
How to use the Bulk Product Upload Feature
Accessing the Bulk Product Upload feature:
Click 'Products' from the main navigation
Click the 'Add New Product' menu
Click the 'Bulk Product Upload' option
Step 1: Upload Product CSV Template
Click 'Download CSV Template' as seen below.

After downloading the product template, input your desired product data. NOTE:Required fields cannot be left blank.
Upload your saved/completed product template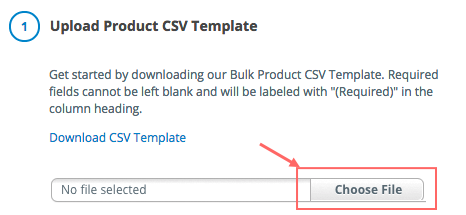 Step 2: Select Image Upload Method
We provide three options for associating/uploading product images as part of the bulk product creation process.
Direct Link in CSV Template: Enter the direct URL to the image.
Upload from Zip Folder (Recommended): Upload a ZIP folder from your computer.
I don't have my images yet: You can create products and later manually upload product images.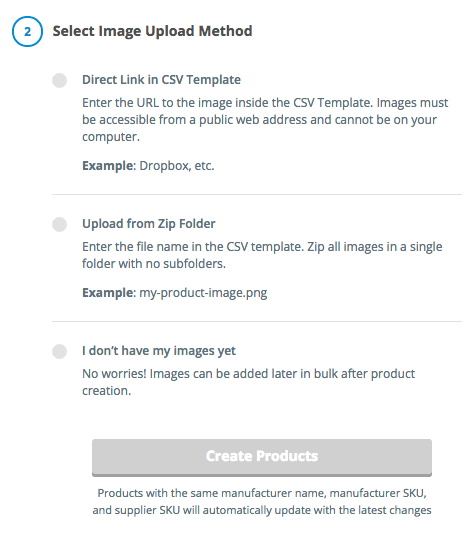 Create Products
Once you've selected your saved/completed product template and selected the desired image upload method you can click the 'Create Products' button. If there are any errors you will be notified.
Success & Error Messaging
Confirmation message
After successful upload, InkSoft will give you a success message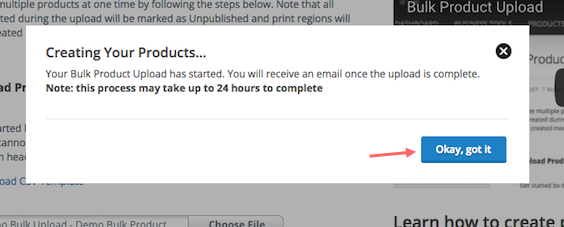 Dashboard Message
Following the uploading and processing
Dashboard message will display to the user who completed the process and upload.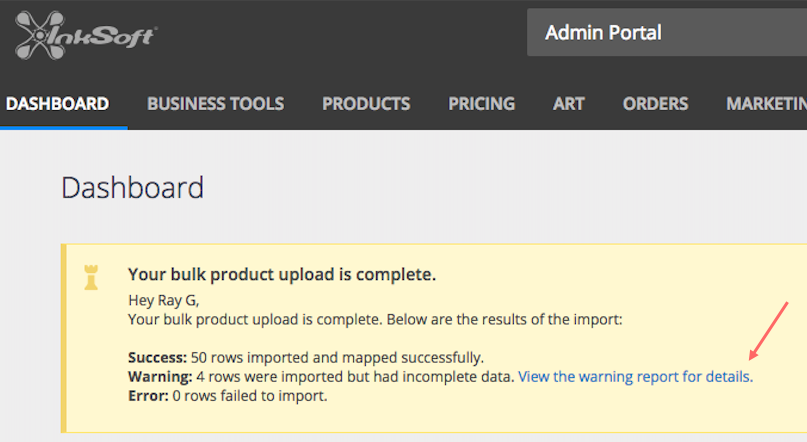 Email confirmation
Following the completion of the upload process, InkSoft will send an email message. Please note the link to view the 'warning report' to see details for failures.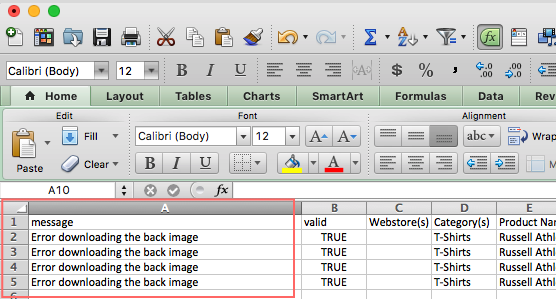 Explanation of Field Validation
Click the button below to view the data requirements for the Bulk Upload process. Character limits, required image size, category format etc... are all defined in this spreadsheet to assist you in the upload process.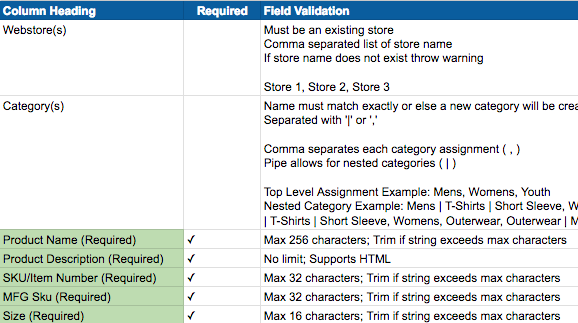 Important Notes & Helpful Tips
All products created during the upload will be marked as 'Unpublished'. This is an important quality control measure to prevent the accidental addition of product.
For blank 'customizable' products, you'll need to add print regions after the bulk upload process. Learn how to create print regions.
Example Files: Download a product image folder and example product template.