Receive an IIF file to export order/invoice data to QB Desktop

Looking for QuickBooks Online Integration? Online Integration





To get started with QuickBooks Desktop:
Hover over Settings
Hover over Advanced
Click QuickBooks
QuickBooks Desktop Integration
The desktop version of QuickBooks is limited in the mapping from InkSoft to QuickBooks. Follow these steps to configure:
Check Enabled
Check Quickbooks IIF under Communication Method
Check the Export Type of your choice
Click Save
Sales Tax & QuickBooks
If you are not charging sales tax on your entire store OR you are only charging tax on some items/some of your customers are tax exempt- then it is important to have your QuickBooks Desktop configured correctly.
If your configuration isn't accurate, you will receive a warning upon import:
"WARNING! The Tax field cannot be left blank even for non-taxable customers and sales which have no taxable items- so non-taxable sales will be correct for this district."
To adjust your settings:
Click

Preferences
Click

Sales Tax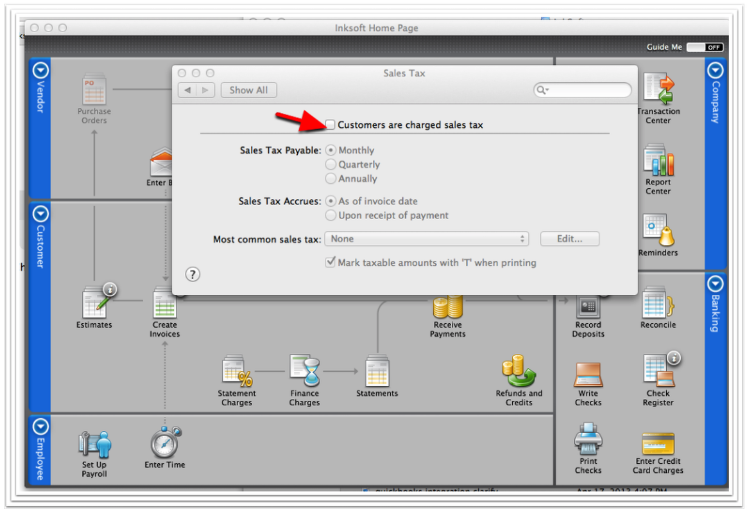 Importing Data into QuickBooks
Exporting orders to QuickBooks with the desktop version means that you'll receive an IIF file when completed.
NOTE: Learn how to Export Orders to QuickBooks before completing the next step.


Once you have the IIF file saved within your QuickBooks account:
Click

File

on your top navigational bar
Click

Import
Click

From IIF Files
A new window will load, at which time you will browse to find your IIF file. During the import you will be prompted to back up your database. As long as everything has been configured properly, you will receive a success message stating the import data was successful.