Manage Your User Base!
User Accounts give you the ability to see who created an account with you per store. You are able to manage your user base from bulk issuing gift certificates, assigning VIP discounts, making a specific user tax-exempt and much, much more!
Don't want to wait for your users to create their own accounts? Feel free to upload your own users in bulk using a CSV Template!
User Accounts
Hover over Marketing
Click User Accounts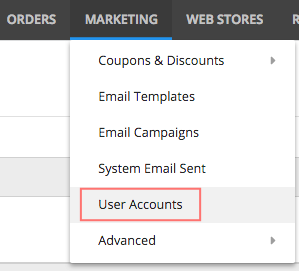 Filter Results
There are a number of ways to filter through your user base.
Filter Type
View All will show you ALL of your users for every store
Store(s)will allow you to filter by a specific store
Opted In OR Out of newsletter will show you who wants to receive marketing emails from you.
NOTE:Great tool when you are running Email Campaigns through Mail Chimp or Constant Contact
Has Saved Art OR No Saved Art will show you who has used your designer and saved their artwork and who has not.
Has Order History OR No Order History will show you who has placed an order with you in the past and who has not
Has Gift Certificate OR No Gift Certificate will show you who has an E-Gift Card to use on your store and who does not.
Note:When you issue Gift Certificates within your User Accounts, you are able to Void, Increase or Decrease the amount, see balances etc!
Search Bar
You have a search bar to the right that will allow you to enter a user's first/last name, email, etc. to find the specific user you are looking for.

Select Action Drop Bar
Upload User Accounts allows you to upload users in bulk via a CSV file
Add New User Accounts will allow you to manually add a user

Add New User Account
Manually add a user account to a specific store. This will in turn email you shopper giving them a temporary password.
Required Fields
Select a Store within the dropdown you want the account to associate to
Enter the Email your customer will use to login
First/Last Name of the customer
Additions
You can use these add on's to give a specific user Tax Exemption, VIP Discount, etc. while checking out on your store.

NOTE:In order to receive this at check out your shopper MUST be logged into their account.
Managing User Accounts
Admin Permissions
To the right of your users, you will see 3 circle icons:
Log On As User will allow you to log on as the customer to save a shopping cart or save artwork to their account!
View User Art will allow you to see the artwork your customer has saved
View Order History to see what they have purchased with you in the past
Delete User Accounts
If you need to ever remove a user(s) account from your list, you can do so by deleting said user.
Check the box next to the user(s) you want to remove
Select Action will be Delete Accounts