The Preferences view will let you manage some configurations for use in Proposals.
To Access the Preferences view, click on Preferences in Proposals: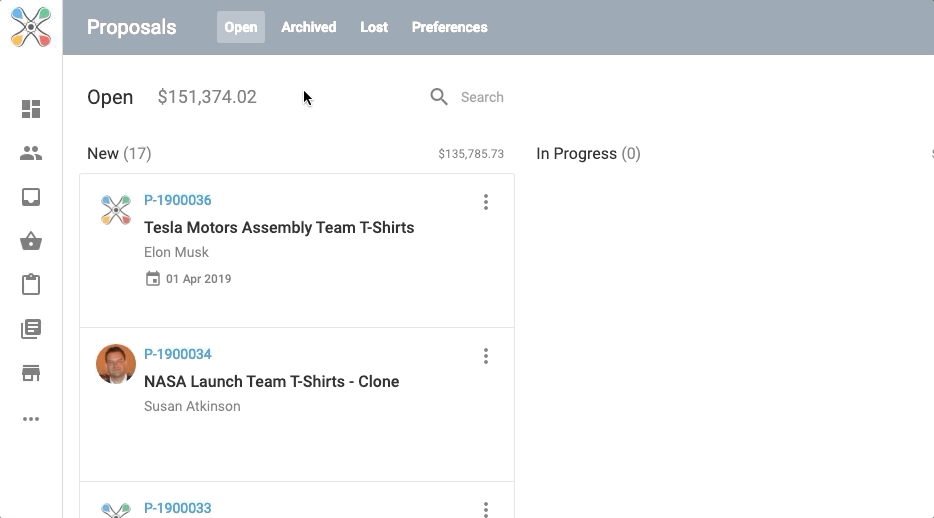 Services / Fees
These are custom services you might need to add to your proposals frequently. If you charge a folding or bagging fee as part of the order, or maybe you are delivering the goods already prepared for a retail environment, then you might create a "Finishing Service" fee to the proposal. A "Graphic Design" fee might be good to add if you are working on custom artwork for the customer.
You can then choose if you are charging per hour or per item, and you will be able to enter the quantity (number of hours or number of items) for the fee when adding to a proposal.
To create a new Service/Fee:
ClickCREATE NEW
Give your reusable service aName
Add a Description(optional)
Enter a$ amount
Units: choose Per Hour or Per Item
Choose if service/fee is taxable
Click CREATE
Click SAVE CHANGES



Note: Services/Fees can also be created while you're in the process of building a new Proposal.
Reusable Pickup Methods

If you have any pick up methods and/or locations that you use frequently, you are able to create reusable pickup methods that you can choose from when creating your proposal.
Proposal Policies
Keep your customers informed by providing easy-to-understand proposal policies on important topics like product returns, information privacy, and delivery expectations. Create policies that convey confidence and trust. Hint: The more details you provide your customers here, the less likely they will be calling you!
You can view/edit the following policies:
Approval Terms
Terms of Use
Privacy Policy
Color Disclaimer


Default Email Message
When you send a Proposal to the client, they will receive an email with custom messaging and a link to the proposal itself. We provide a default email message, but you can choose to customize the email subject and message: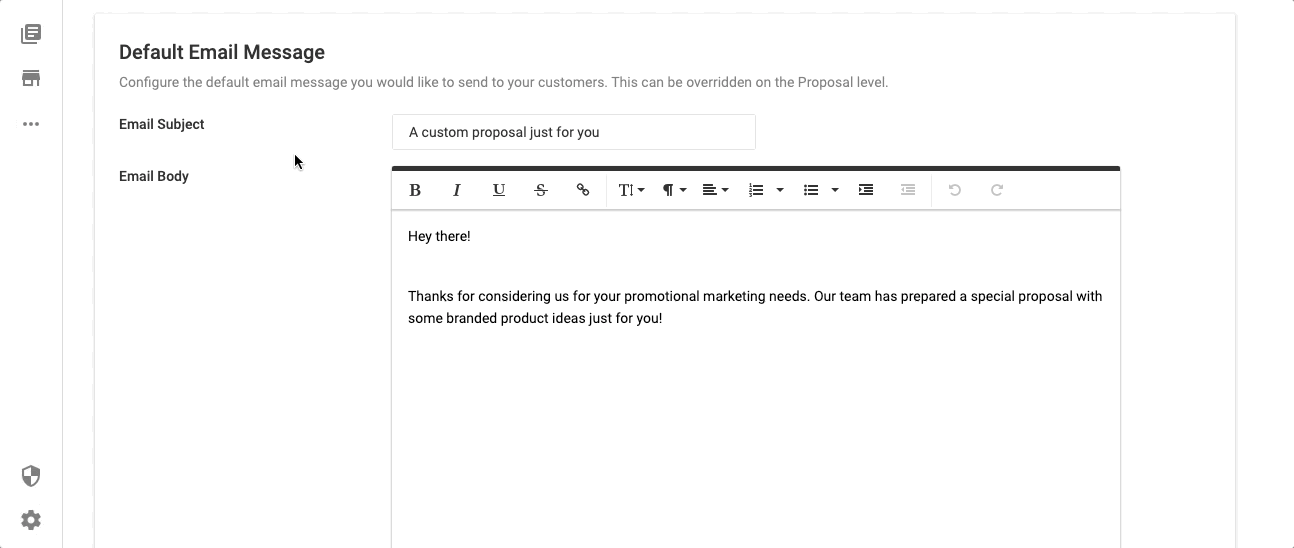 Note: This email message can be overridden at the Proposal level.
Set Default Tax Rate
Under the Preferences menu of Proposals, you will see a section to set a default tax rate. This will keep your taxation consistent across all of your Proposals unless overridden.