Allows you to create your own method for custom shipping (i.e. at High School, from Owner, at Gym, to Business)
Create a Custom Shipping Method (Optional)
Now that you have the Custom Shipping Account out of the way. Let's create a specific method for your shoppers to choose from.
Click on the Account you want to open (i.e. Local Pick Up)
Click Shipping Method
Click Add New Shipping Method
Note: You will receive an error message stating that "No shipping methods have been configured yet..." - This will remove upon method creation.

Create Custom Shipping Method Continued
Fill out the following information to create the shipping method.
Name: The name of the new shipping method (example: to school name)
Store: Assign this shipping method exclusively to any single store or all stores
Description (Optional): Internal description - Only you and other admins will see
Calculation: Pricing based on weight, item total, or by item count
Production Time: Number of days required to process orders
RUSH Markup %: A percentage (%) markup applied to each item shipped
Days In Transit Min: The minimum number of days required to transport the shipment
Days In Transit Max: The maximum number of days required to transport the shipment
No Discounts: Do not allow for the shipping price to be discounted
No Shipping Address: Do not ask for a shipping address in the Shopping Cart (recommended for Pick-up options only)
Shipping Restrictions: The first 4 are allowances. You are allowing to ship to unknown addresses, residential addresses, commercial addresses and PO boxes (recommended to have all 4 checked)
Active: Allow customers to use this Shipping Method
Sort Order: The order this shipping option will show up in the shipping list on the cart
Shipping Price: Enter a number in for your price (We will update this below)
Click Save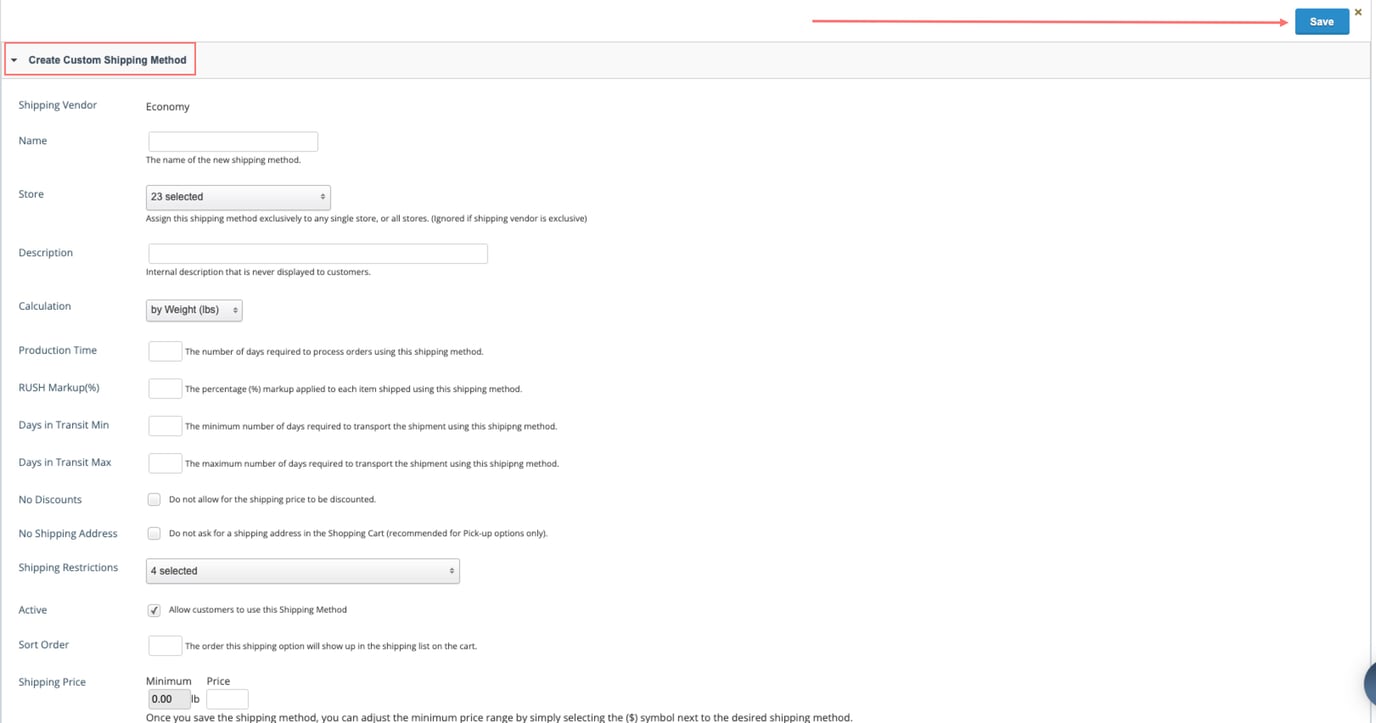 Update Pricing
After saving your method details:
Click Shipping Method
Click $ icon to configure pricing
Here you can enter pricing breaks for the selected calculation method (weight, Item total, or item count) Example below:

0.0LBS -- 4.9LBS = $5.00
5.0LBS -- 9.9LBS = $7.50
10.0LBS -- & above = $12.00
Note: There cannot be any conflicts between ranges.
Plus Sign (+): This will allow you to add another break to your shipping price
Click Save
Store Override Schedule (Optional)
This will allow you to make custom pricing for a specific store
(Optional because you can price this method for all stores)
Click Add New Store Override Schedule
Select the Store from the dropdown
Enter a starting value -- this can be adjusted later
Click Save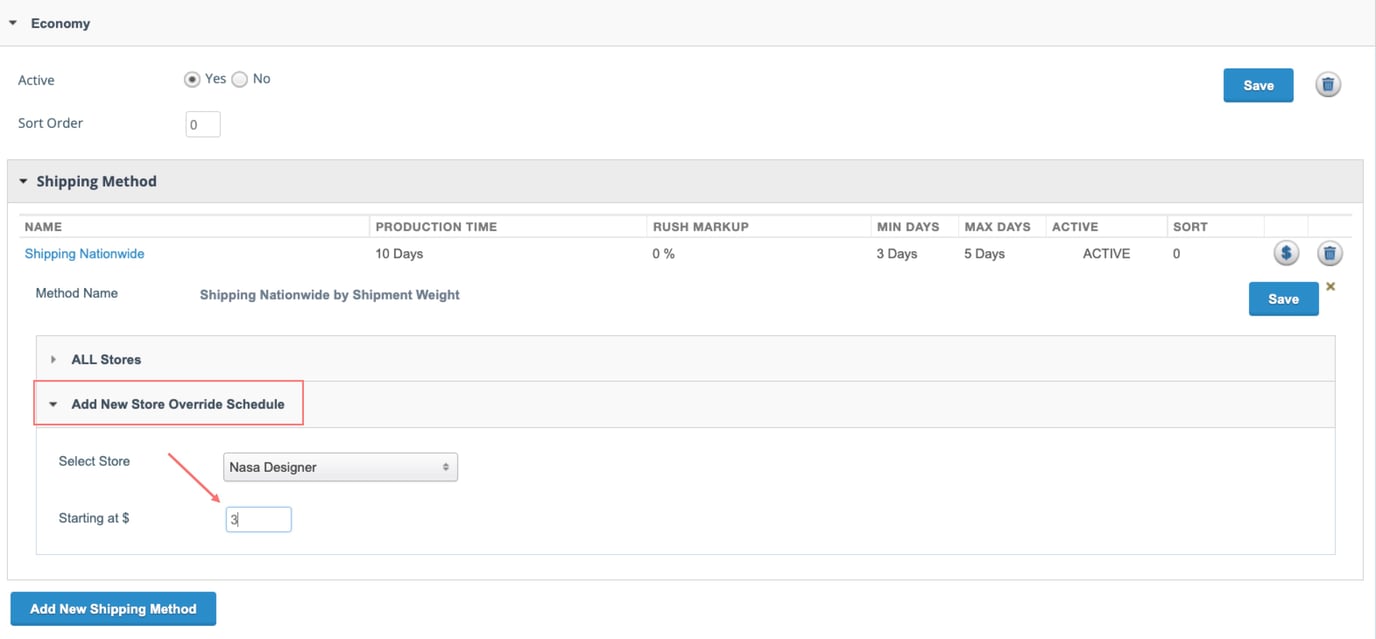 Update Pricing
Once the override has been saved you can now edit your pricing as seen below
Click Store Name
Add Price Breaks
Click Save