Expedite the creation of pre-decorated products
Create Pre Decorated Products in a Flash!
Creating Pre Decorated products using Corel, Illustrator or Photoshop can take some time. Using Rapid Product Creator to generate your products will make it easier and faster when adding products to your stores.
Store Build
Our Rapid Product Creator is directly linked to the store itself. After going through our store creation wizard, you will be able to create your pre-decorated products.
Rapid Product Creator Video
Embroidery is now available within RPC! Check it out!
Upload Art
Click Store Admin
Click StoreArt(Optional)
Click Upload Art -to drag and drop or upload your designs to be used
PRO TIP:You want to make sure that you are using high quality artwork. We suggest 12 colors or less, vectorized artwork.
Best files to upload will be an PDF or SVG.
Click on the Gear Icon to get the below selection
Manage Colorways (NEW!)- Add different color variants to use for your products.
Mark as Inactive- Artwork will come in as Active. You can set your artwork as Inactive if you would like to keep it on file and use at a later date.
Delete Art- Removes uploaded artwork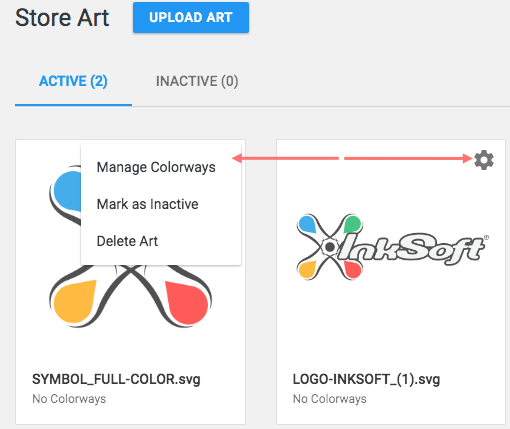 Manage Colorways
Colorways allow you to quickly add different color variants to be used for your products.
(i.e. Black logo on a white shirt, white logo on a black shirt.)
NOTE:Your artwork needs to be 100% vectorized art. Any raster elements will not allow you to use this feature.
Need help with your artwork?
There is an awesome website called vectormagic.com that will do all the leg work for you!
Create New Colorways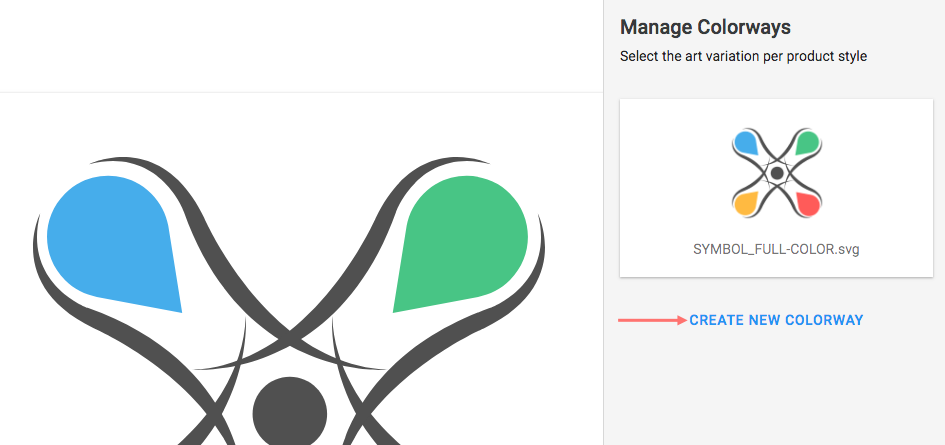 You will automatically see the colors associated to your design.
Select Color to change the specific color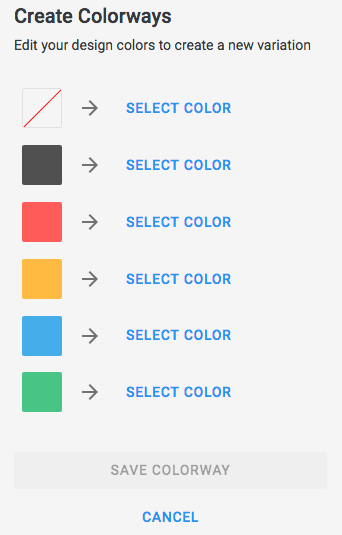 Custom Color
Use the Color Box to find your color
Type in Hex Value of the color you want
Palettes
If you have color palettes set up within your admin portal, you will have the option to use those colors as well.
Looking to set up a ink palette? Ink Palette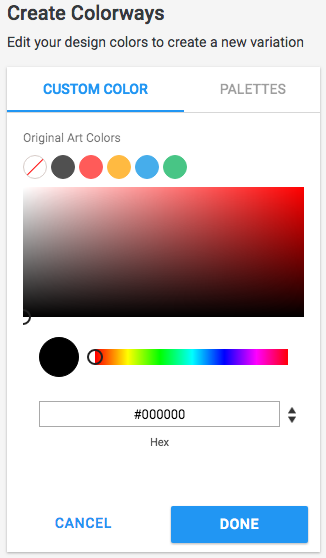 Once you are done making your edits: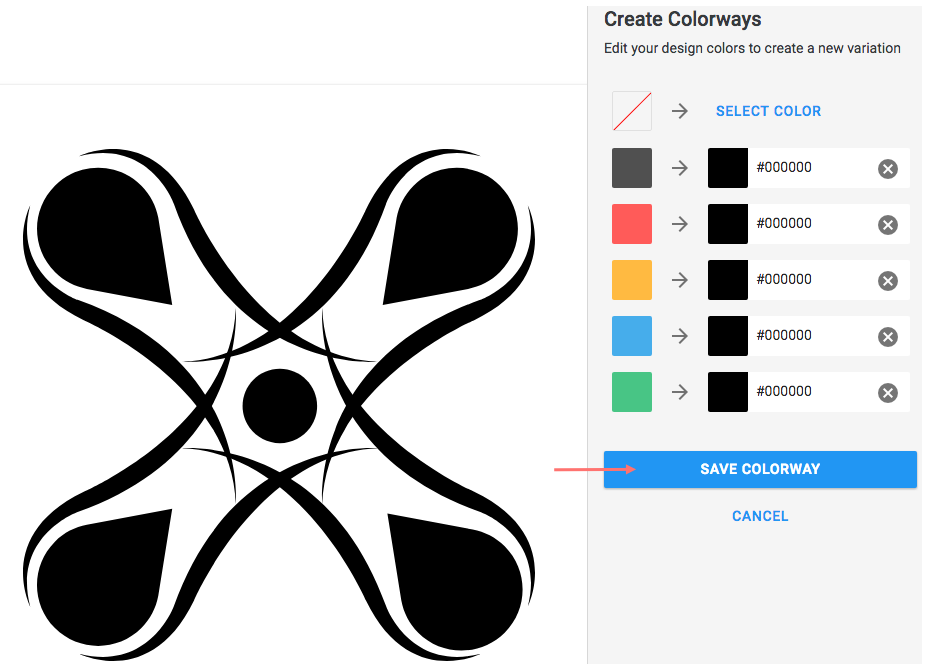 You will see your list of colorways on the right-hand side. Once you are ready to create your pre-decorated products:
NOTE: You can make as many colorways as you would like!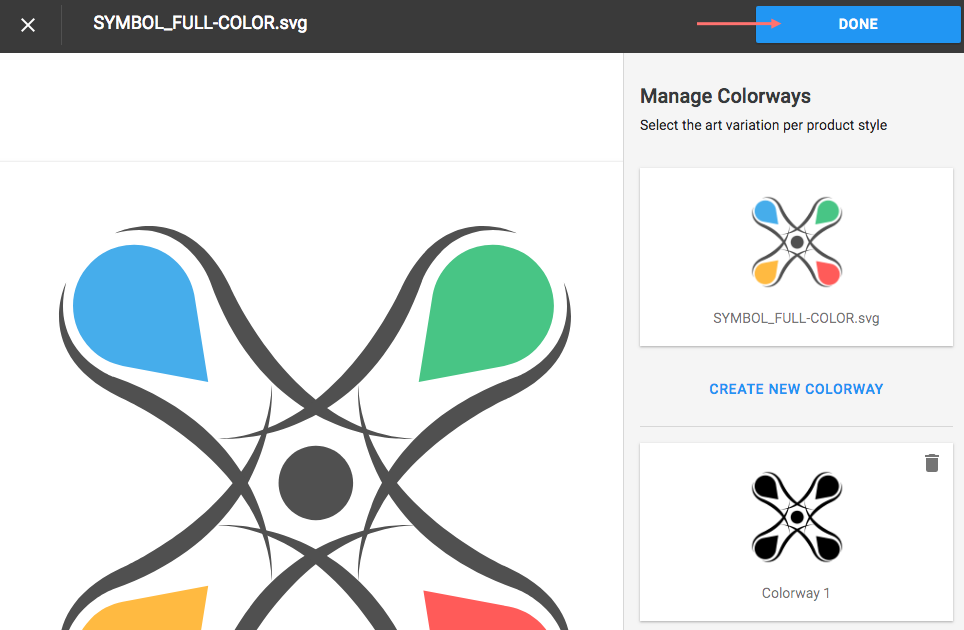 Rapid Product Creator (Pre-Decorated Products)
-Add Existing- Any Pre Decorated Products created within your Admin Portal and/or products you have created through RPC on a previous store.
NOTE: You will visually see a 'Shared' icon so you know what products you are currently sharing between stores.
-Create New- (Rapid Product Creator) Will open up your blank product catalog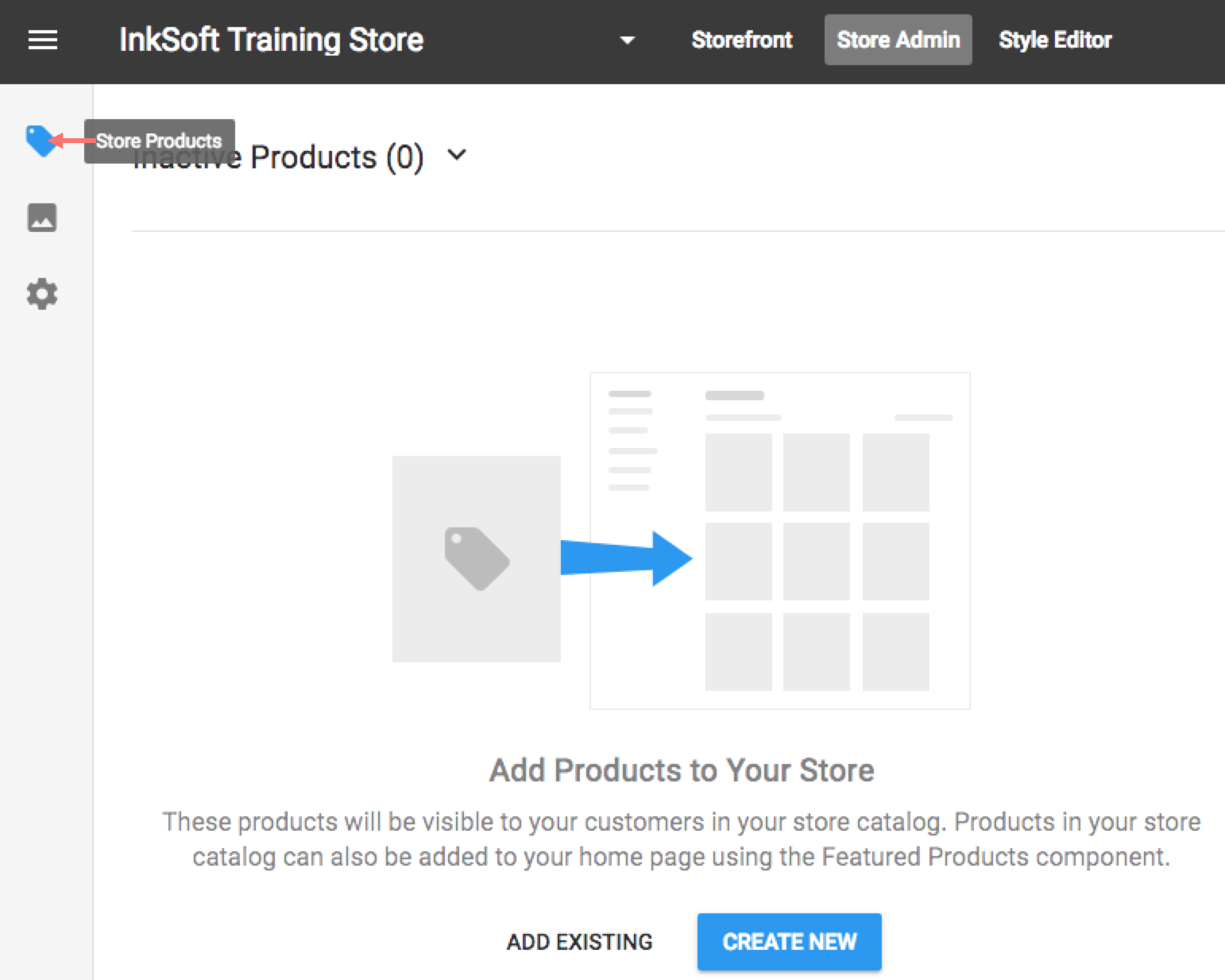 Find a Product & Art Asset (Design)
Search Bar- Enter sku or name to find a specific product
Category- Filter by a category you have set
Filter By- Filter by Supplier, Manufacturer, etc.
Sort By- Product Cost or Product Name

Active Store Art- On the right you will see the artwork that you have uploaded. If you need to add another Art Asset- Use the Upload Art Button.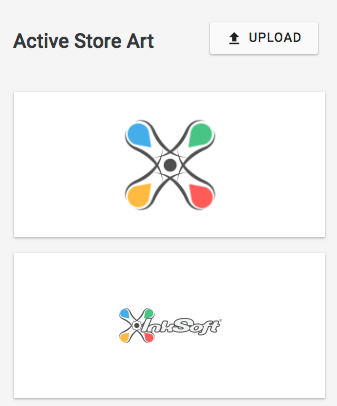 Add Artwork to Product
After Selecting your first product, you will see your Selected Colors on the left, Product in the middle and Active Art to the right.
Hover over the Art to see a preview over the product
Click Design to stretch, drag and drop artwork onto product
ClickAdd Color to add another product color
ClickView Colorway to add a different color variant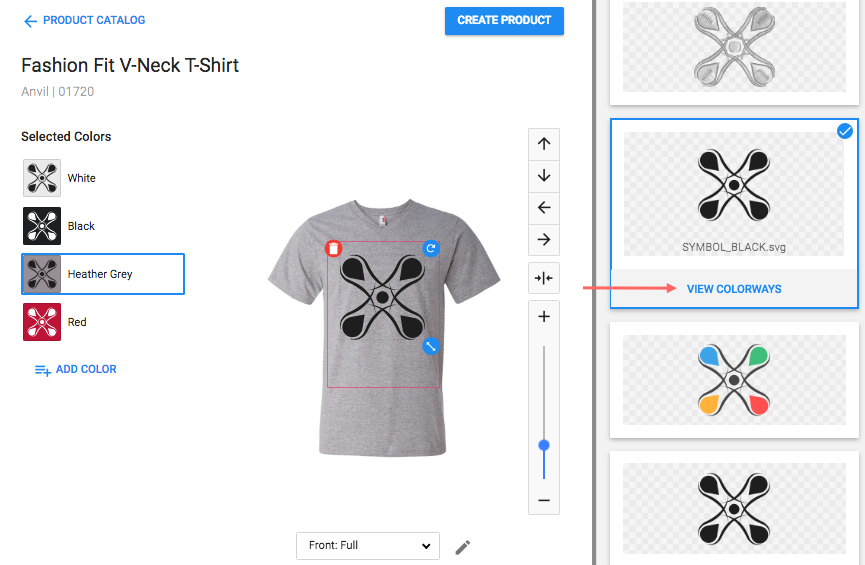 Edit Print Region/Create Product
Click Edit Pencil next to the print region selector to edit a print region on the fly
NOTE:This will update the blank product's print region within your admin portal.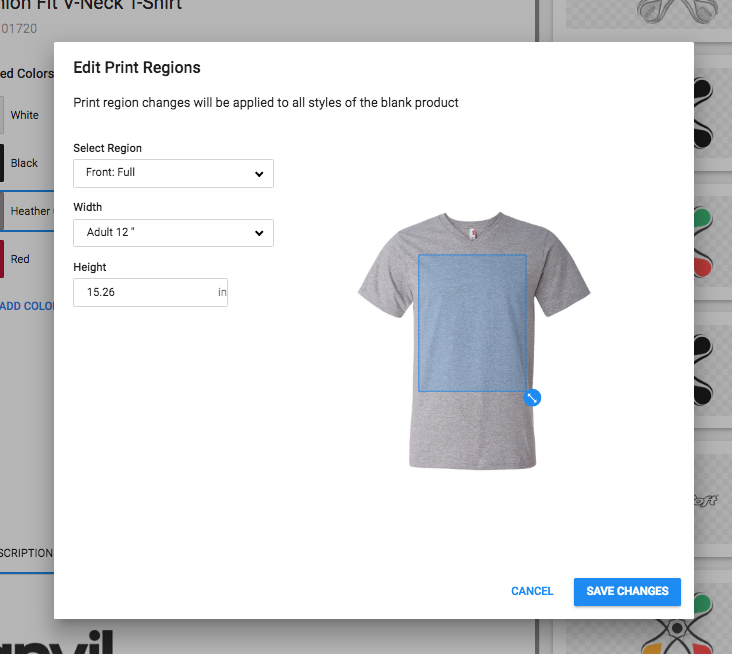 Click Create Product when you have finalized your product selection
CONGRATULATIONS! YOU JUST CREATED A RAPID PRODUCT!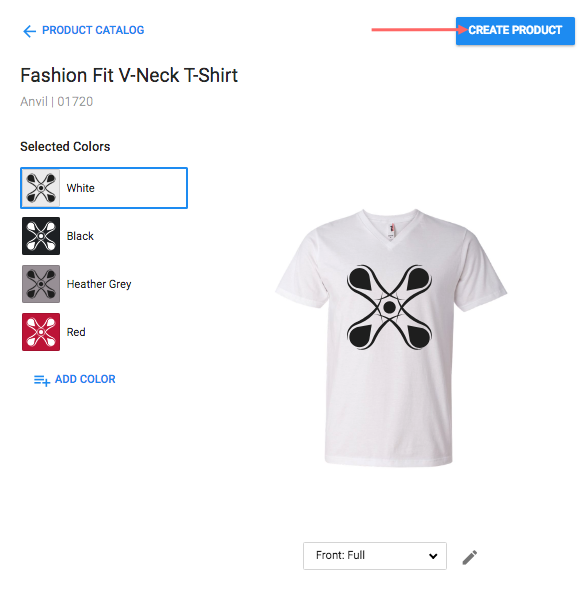 Product Shelf
After selecting Create Product, you will be taken back to your Select Product page to start creating your next pre-decorated product.
View Products will take you to your product shelf. This will allow you to maintain a listing of the products you have created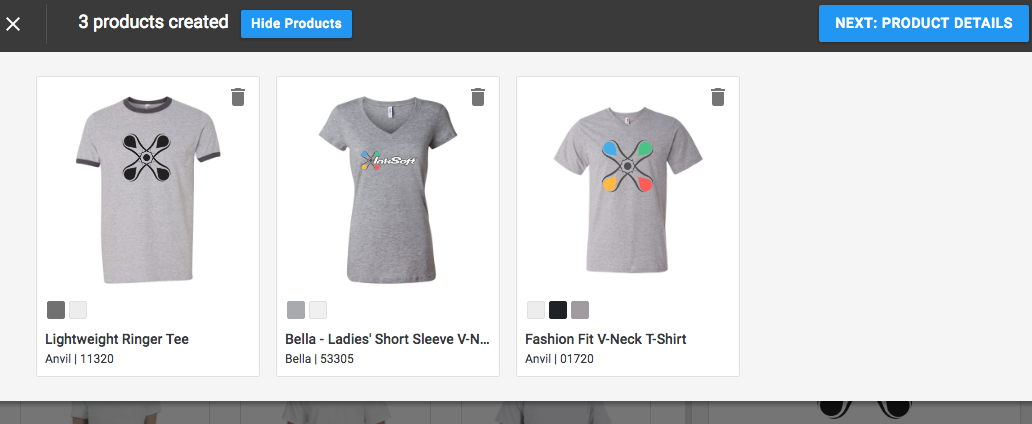 Product Details
Click Next: Product Details - to enter product information
Product Name- will populate the products original name (Edit Name Optional)
Default Color- change the first product color your shoppers will see
SKU- will pull in the blank product sku and add a unique identifier (Edit SKU Optional)
Price- Enter the price that you want to sell your product
NOTE: Override price icon to quickly enter your size up-charges

Edit- will take you back to Rapid Product Creator workflow to make any changes
Delete- remove the product completely
Click Finish- to activate your products on your store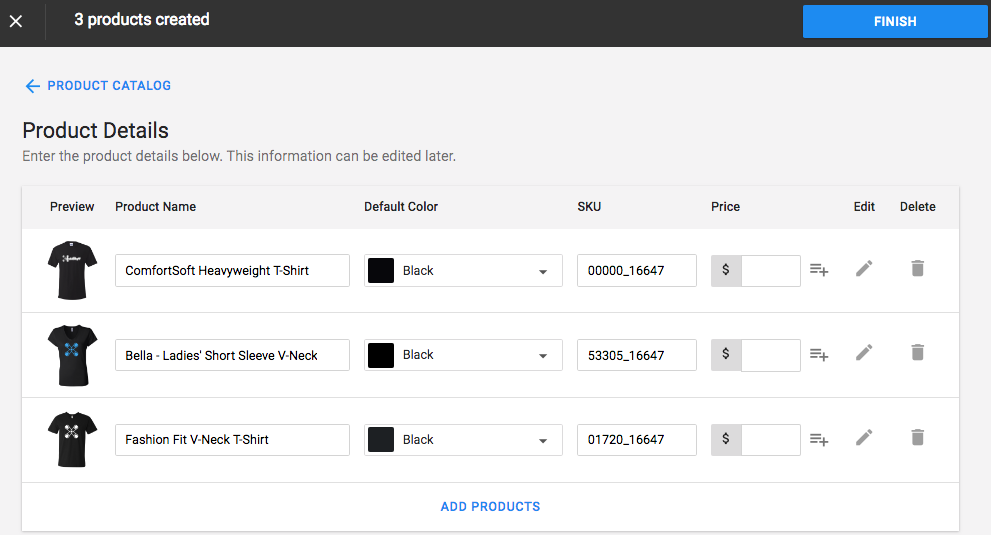 Looking to make some final edits per product style? Continue to Edit Products