Edit products after using Rapid Product Creator
Active Products
ClickStore Admin
ClickProducts
Filter
Click on theFilter List Iconto refine your product search.
Selection includes:
Category/Uncategorized
Manufacturer
Product Origin (Legacy vs. RPC)


Bulk Actions
Check boxesnext to products for individual selection
Select All Products(every product you have active)
Select Current Page(If you have more than 1 page of products, you can select the page of products you are on.)


Bulk Action Selection
NOTE: Bulk Actions are for RPC created products ONLY.
Click on 'More Actions' (3 dots Icon) to receive the following selection:
Assign To Category
Add Custom Size Chart
Taxable
Tax Exempt
Mark as Inactive
Delete Product


Categorize Product (Individually)
Selectcategory dropdownto assign product to a category.



Edit Product
Theentire lineof the product is clickable. This will take you into the individual product to change its settings.
Click 'More Actions' next to the product (3 dots Icon)
ClickEdit Product- Edit/ Add Product Description, Sizes, Personalization, etc.
Other Options:
-Mark as Inactive- Will move your product to an Inactive state
-Delete Product- Remove Product from the store completely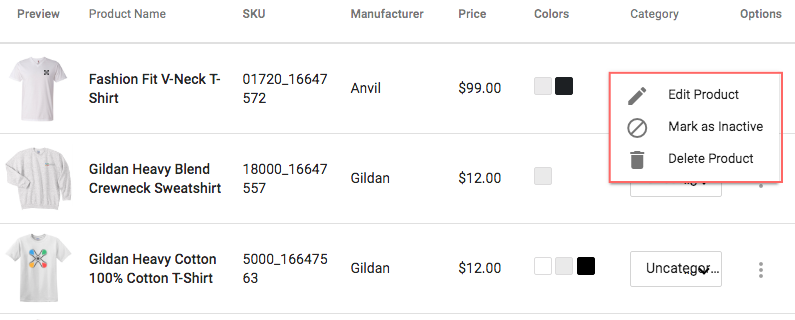 Edit Product
Here you will have 4 Tabs:
General
Personalization
Pricing & Styles
Advanced