The pricing tab within manage products allows you to control your supplier cost, customer price and size up-charges.
The pricing tab within Manage Products will allow you to control and price and cost of the product. We will be reviewing how to make these changes individually and in bulk.
Pricing Overview
Set Base Customer Price: Here you will set your overall customer price, you can do that with a fixed price (most commonly used for a pre-decorated or static item) or a pricing rule (most commonly used for blank products).
Pricing Rules: To price using a pricing rule, click into the 'Pricing Rule' field, drop down to select the correct rule, click save. Click here to learn more about pricing rules!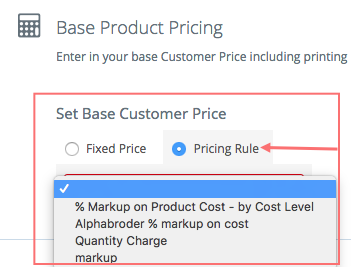 Fixed Price: To price your product using a fixed price, type your fixed price into the field provided, click save. Size up-charges for extended sizes will be covered below.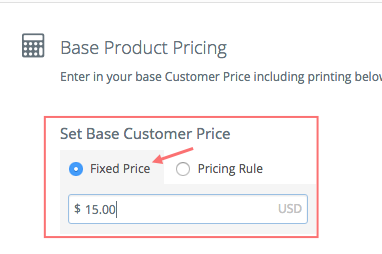 Supplier Cost: Imported from the supplier (if using an integrated supplier).
Supplier Cost Override: Override to increase or decrease your supplier cost.
Fixed Price Override: Increase or decrease your fixed (customer) price at the size and color level (size up-charges can be entered here).
Customer Unit Price: Price as it displays on the storefront to customers.
Pricing - Bulk Actions
Bulk actions are a great way to apply pricing changes to multiple product colors at once.
To select the applicable colors, click into the box on the far left-hand side of the page. Choose your filter to select your product colors:
All: Will select all colors.
None: Will remove any filter selections.
Status: Choose Active or Inactive.
Color Type: Choose based on color type (light, dark, heathered).
Decoration Methods: Select screen or digital print.
Screen Print Grid: Select the applicable screen print grid.
Digital Print Grid: Select the applicable digital print grid.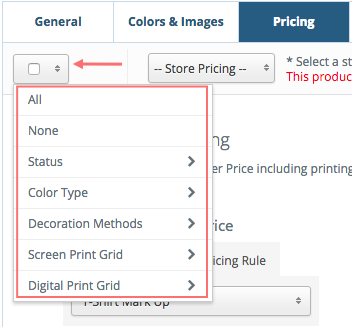 Pricing - Bulk Actions Continued
After selecting your colors, you can apply your pricing changes at the size level for your selected colors. Click into the bulk apply box and choose the field you wish to update:
Override Supplier Costs: Allows you to adjust the supplier cost
Set Customer Price: Allows you to adjust the customer price (fixed price).
Set Sale Override Price: Allows you to set dates and pricing (at the size level) for a sale item.
Remove Sale Override: Will remove the sale override for the selected colors.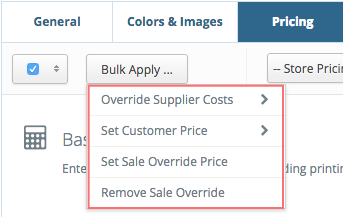 Once you have selected your Bulk Apply Filter and sizes, type your supplier cost/customer price into the box at the bottom of the selection, click apply.
Save your changes.