Within the Colors and Images tab, you are able to assign your changes in bulk at the color level to save time.
The Colors and Images tab within Manage Products allows you to make your color specific changes in bulk to save you time. This includes setting product colors to active/inactive in bulk, assigning print grids, decoration methods and more.
Selecting your Colors in Bulk
To select your colors, click the checkbox on the left to choose your parameters.
This allows you to select all colors or choose the colors based on current status, color type, decoration method and print grid.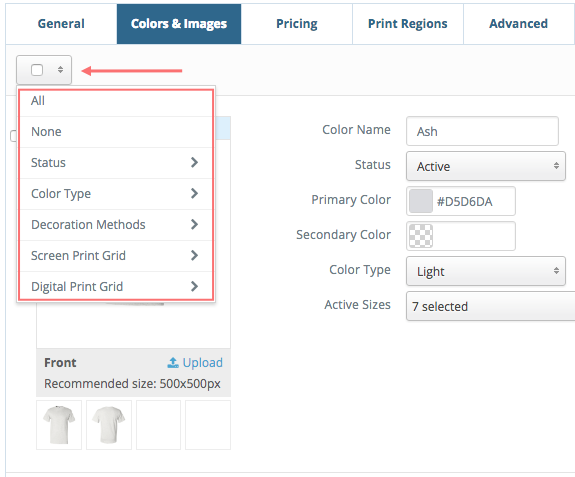 Available Bulk Actions
After choosing your colors in bulk, click on the 'bulk apply' button to select the correct action.
Status: Set to Active or Inactive.
Color Type: Set your color type in bulk.
Decoration Methods: Select screen or digital print.
Screen Print Grid: Select your screen print grid.
Digital Print Grid: Select your digital print grid.
Minimums Per Order: Set your minimum/order/color here.
Trash Can: Will delete all colors selected.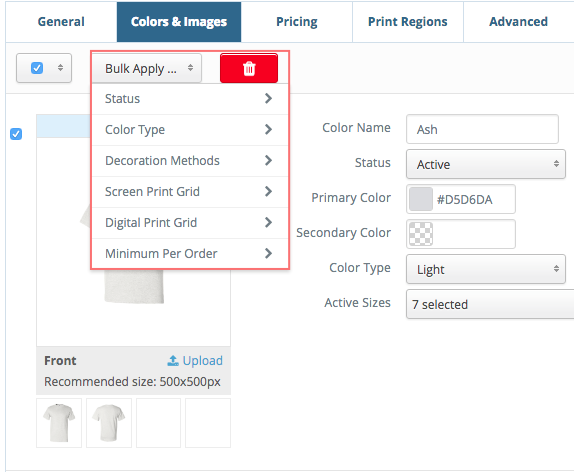 Click here to learn about our newer, simpler bulk upload process for bringing in new products and images!
Uploading Product Images in Bulk
Click here to learn more about uploading images in bulk at the color level (legacy setting).
Important Notes & Helpful Tips
Need to make individual changes within Colors and Images? Click here!