Creating a pre-decorated product within the design studio allows you to easily design and sell static products to your customers
To begin the pre-decoration process, you will need to have the blank products loaded into your main store that will serve as the blanks for the pre-decorated products.
Click here to learn how to add in your blank garments
Navigating to Pre-decorated product(s)
Hover over Products
Click on 'Add New Product'
Click on 'New Pre-Decorated product'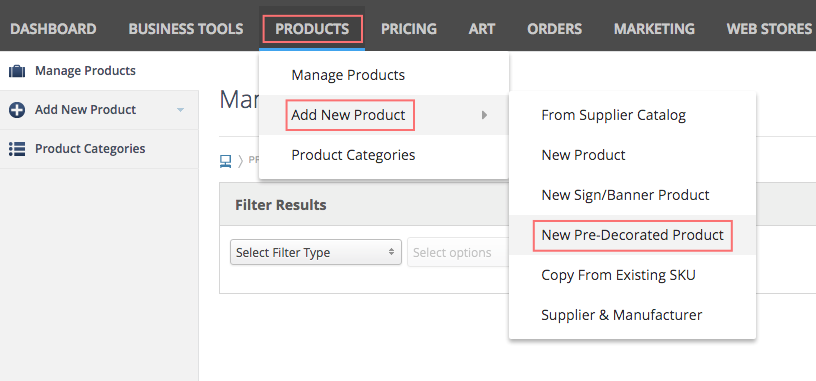 Creating your Pre-Decorated Product
Within Inksoft, there are two options to create pre-decorated items.
Create in Design Studio - Recommended Method.
This method allows you to pull from your blank product catalog and decorate using the design studio. This is the method we will cover in this walkthrough.
Upload From Computer
This method is ideal for a product that already has the decoration applied and is not in your Inksoft catalog, products such as promotional items, stickers, water bottles etc.

Choosing your product in the Design Studio
Select your product by clicking on 'Change Product'. You are able to search by category or type the product sku in the search box.
Select your product color - all product colors will have the decoration applied, the color you choose here is the color you will decorate on within the design studio.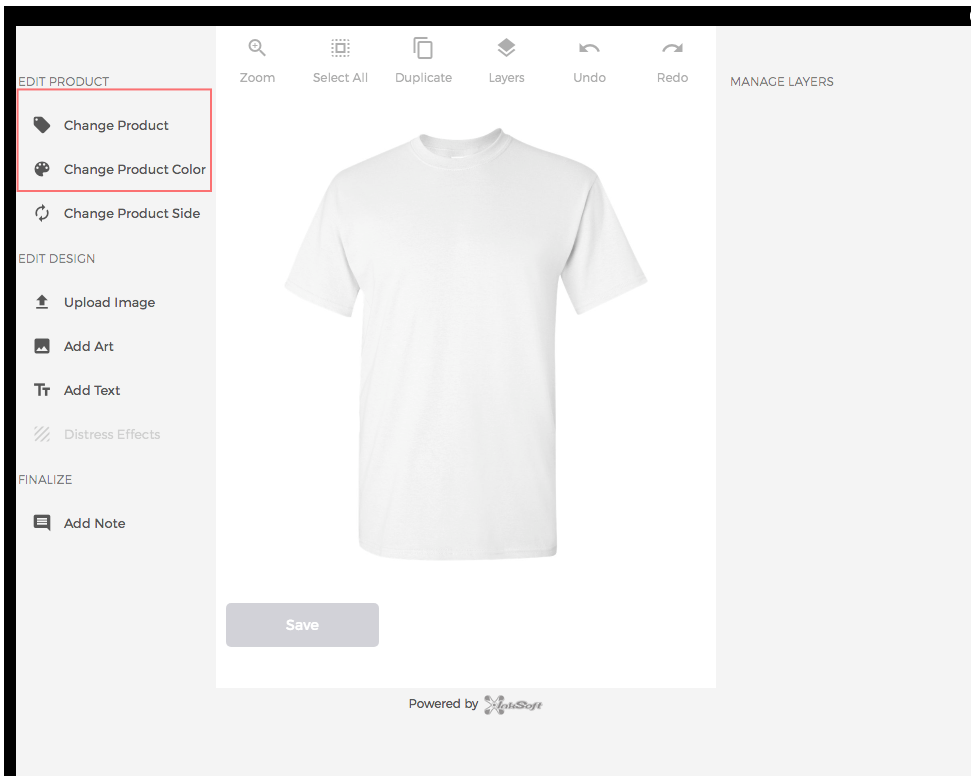 Design your Product
Select your Artwork - you can access your saved art from this tab, as well as the clip art and design ideas assigned to your main store within Inksoft.
Upload Image - allows you to upload artwork directly from your computer.
Place your design on your desired product side. You are able to change your product side by clicking on 'change product side' to decorate the back and side (or sleeve) if needed.
Click 'Save' to name your design and render your pre-decorated product. Once you save this product, it will lock the product as is, please make sure the item is fully decorated before saving.
The amount of time that the rendering process takes will depend on the colors in your design and the number of product colors. The process may take a few minutes. Do not close the design studio during this process.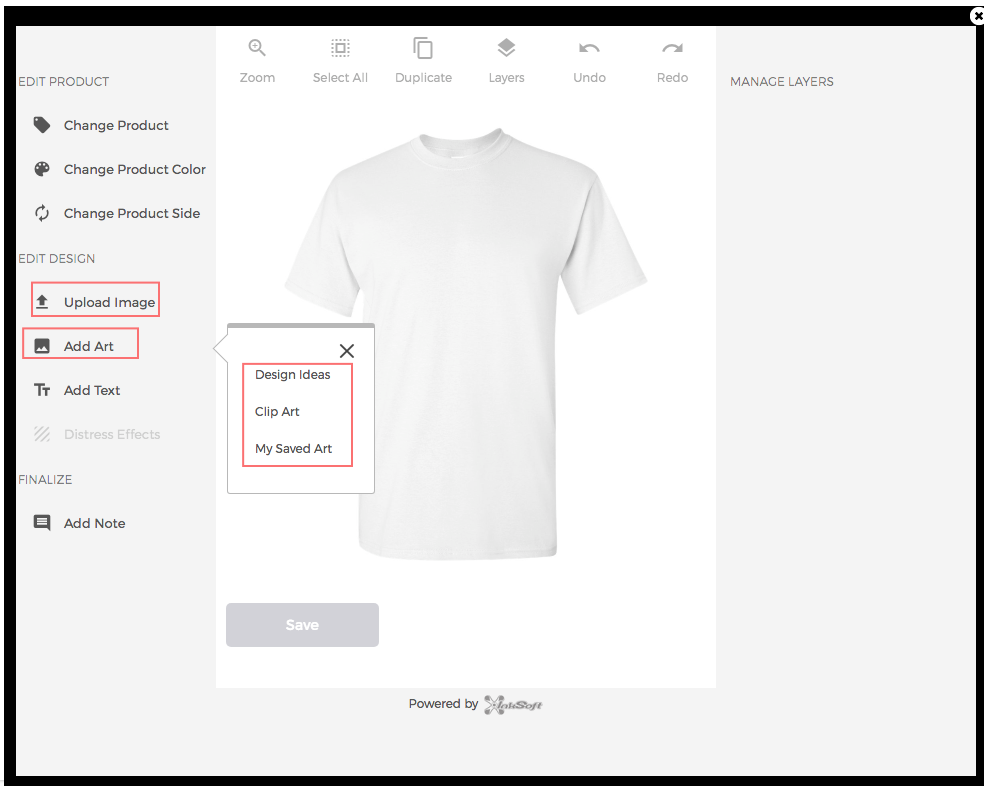 Edit Product
After the design has finished rendering, you will be brought to the Edit Product page within Manage Products to assign your product information.
Since we have created this product using one of our existing blank products, all the blank product information will come over from the supplier, including product name, description, etc. You are able to edit this information if desired.
General Tab
Name
Supplier
SKU - We recommend making this store or design specific
Manufacturer Sku - We recommend leaving this as is for ordering purposes
Available Sides - Front will show by default, if you have decorated on another side of the product, enable that side here.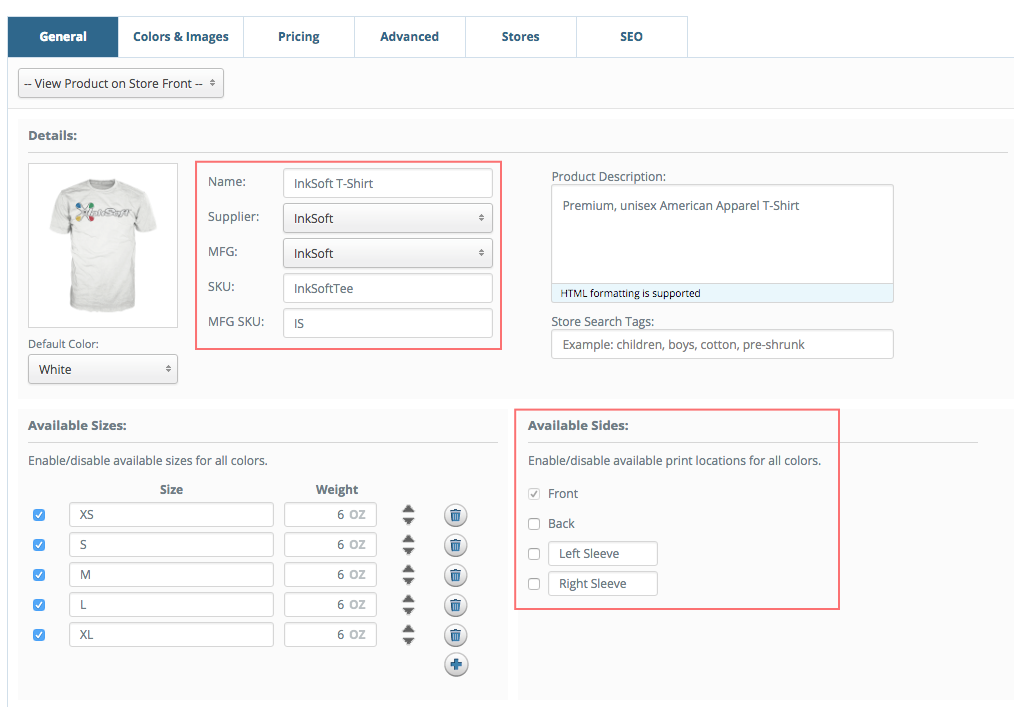 General Tab Cont.
Store and Category Assignment - Make sure your product is set to 'Active' and assigned to the proper store and category. Categories are optional for pre-decorated products.
Options - Choose your applicable product options - pre-decorated MUST be checked.
Personalization Options - If you are allowing for any customization of the product, team name and number, optional name on back or embroidery options you will set them here.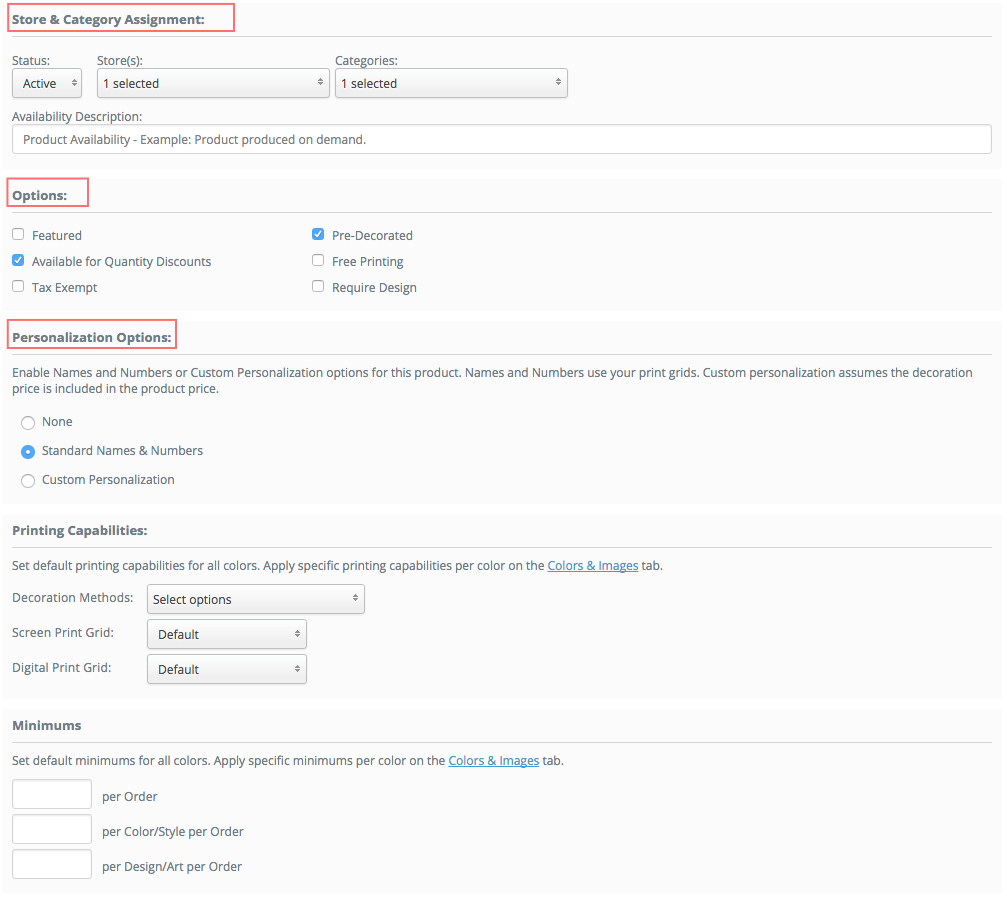 Click here to learn more about Custom Personalization on Pre-Decorated Products
Pricing Tab - Setting Fixed Price
To set your product price, including the decoration, enter in your Fixed Price, this should be your final customer price.
If you up-charge for extended sizes, you can click on the bulk apply box in the upper left hand corner to adjust the price at the size level for all product colors.
Save your changes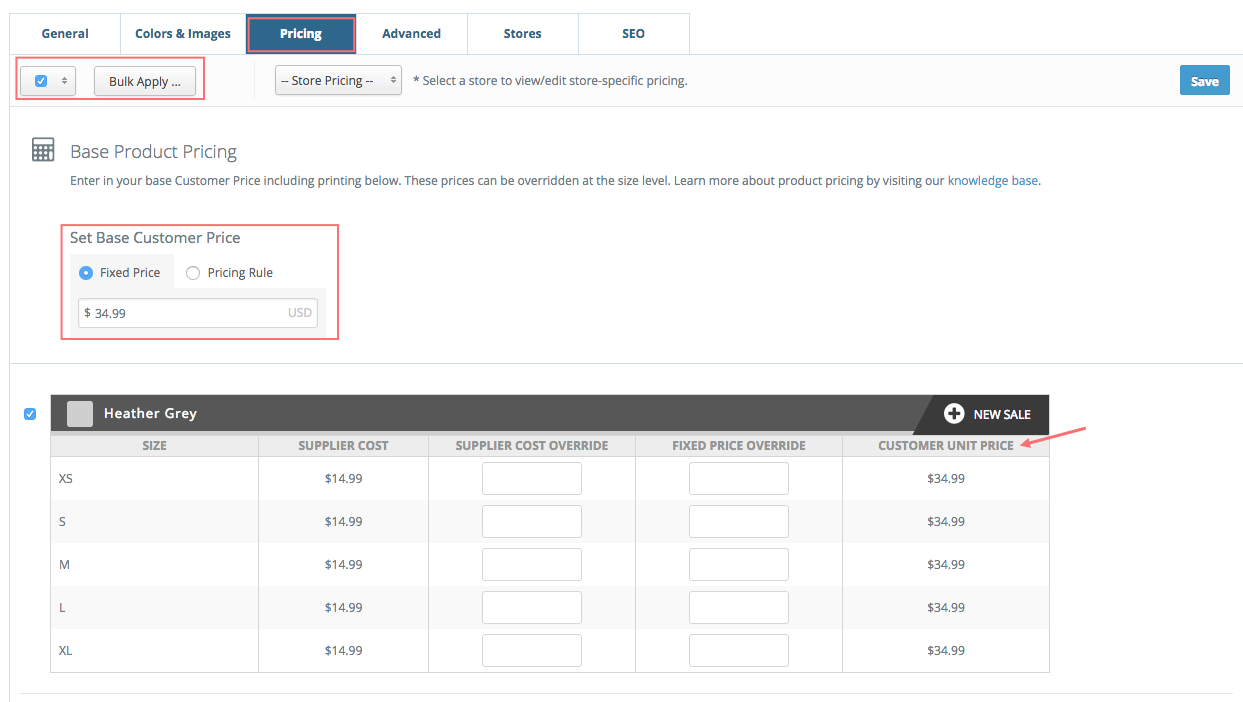 Stores Tab - Product Color Management
The Stores tab allows you to easily control your available product colors.
Your available colors will have a green box around the color name, a grey box means the color is not available on the storefront to your customers.
You can easily choose your available colors by clicking on the color to remove/add them to the store.
Save your changes